Why A Fresh Coat Of Paint Is Boring and 7 Great Tips To Redecorate On A Budget
If it's just a fresh coat of paint and a new cushion or two, then its pretty straightforward….but, ask yourself if that's what you really want!
Could the same spend £$ produce a more stylish and refreshing update?
Let me share a little story.
Recently, I have been chatting with a lady who had a smallish budget for redecorating her large living room.
So, she thought she would buy a new rug, keep the sofa which was a perfectly fine, keep the wooden venetian window blinds which were put up years ago, add a curtain and keep the wooden coffee table and the wood shelves, which were dotted around the various walls.
She liked the white walls and was just going to repaint in white…nice and fresh, she thought the current layout was ok too.
After we chatted she realised she would be spending quite a lot of money and end up with exactly the same room and a new rug.
Now, don't get me wrong, not many people can decide to just refurnish a room that already has perfectly serviceable things in it and actually, I'm all for making use of furniture and repurposing things we own, where possible.
However, since our consultation, she has opted for (very) dark walls, has repositioned some furniture to make much better use of the space, has recovered a chair in a big bold geometric print, removed the venetian blinds & hung (budget) velvet curtains and sheers and added some directional ceiling spot lighting to illuminate her treasured art works.
Similar spend – MUCH bigger impact!
So, what I want to suggest to you is that if you take a little time at the beginning to think outside-of-the-box there are lots of new possibilities rather than 'same-old'!
You can help yourself do that by researching and looking at inspiration from various sources.
Changing from the paint colour you have always had takes courage, but if you explore new opportunities in terms of colour and room layout you could end up with a a much more dramatic 'new' room for the same amount of money it will take to keep it just the way it was!
7 Great Tips To Redecorate On A Budget
REDECORATE ON A BUDGET TIP 1:
Change Colour
Just because the room has been the same colour for a while doesn't mean it has to stay that way…look at the things you are keeping in the room and make a list of alternative colours that might work instead. You can get inspiration from a piece of art you love or the colours in a rug, or cushion.
I divide colour into 3 main groups, light, mid and dark tones which is a great starting point. So if your room is painted in light tones (like my lady above) consider moving to a mid or dark tone (depending upon your bravery)!
Do use tester pots is my only word of caution here.
REDECORATE ON A BUDGET TIP 2
Look at The Layout
Look at every item that you have in the room, you should make an actual list, and then decide what you will keep and what can go. A common problem I encounter is that people have too much in a room. Over time, furniture can accumulate, which all takes up space, so this is your chance to evaluate each item for its usefulness and aesthetic appeal. And dare I say it, but have a good declutter too.
Hint – the more free floor space you can acquire the better.
REDECORATE ON A BUDGET TIP 3
Accessory Update
This is the cheapest way to make the biggest impact! I know all about doing this from my Home Staging work where I help people make their homes beautiful on the lowest possible budget so it will sell quicker. The transformations can be totally amazing.
So, take your new paint or wall colour and have another rethink about what new colours you could add in the accessories. Changing the cushions will instantly update things and many of the High Street stores have wonderful selections. To help you get inspired have a look at Pinterest and you could do a search, for example, for 'blue living room" which will then show you lots of lovely blue living rooms with different coloured accessories that you can consider for your situation.
And, don't forget about mirrors.
If you have a blank wall, maybe opposite a window, this is the place to add either a large mirror in a frame suited to the room style, or, whats quite contemporary, is a grouping together of different sized ones. Either way, they will add extra light and style too! They are a very budget-friendly alternative to more expensive art.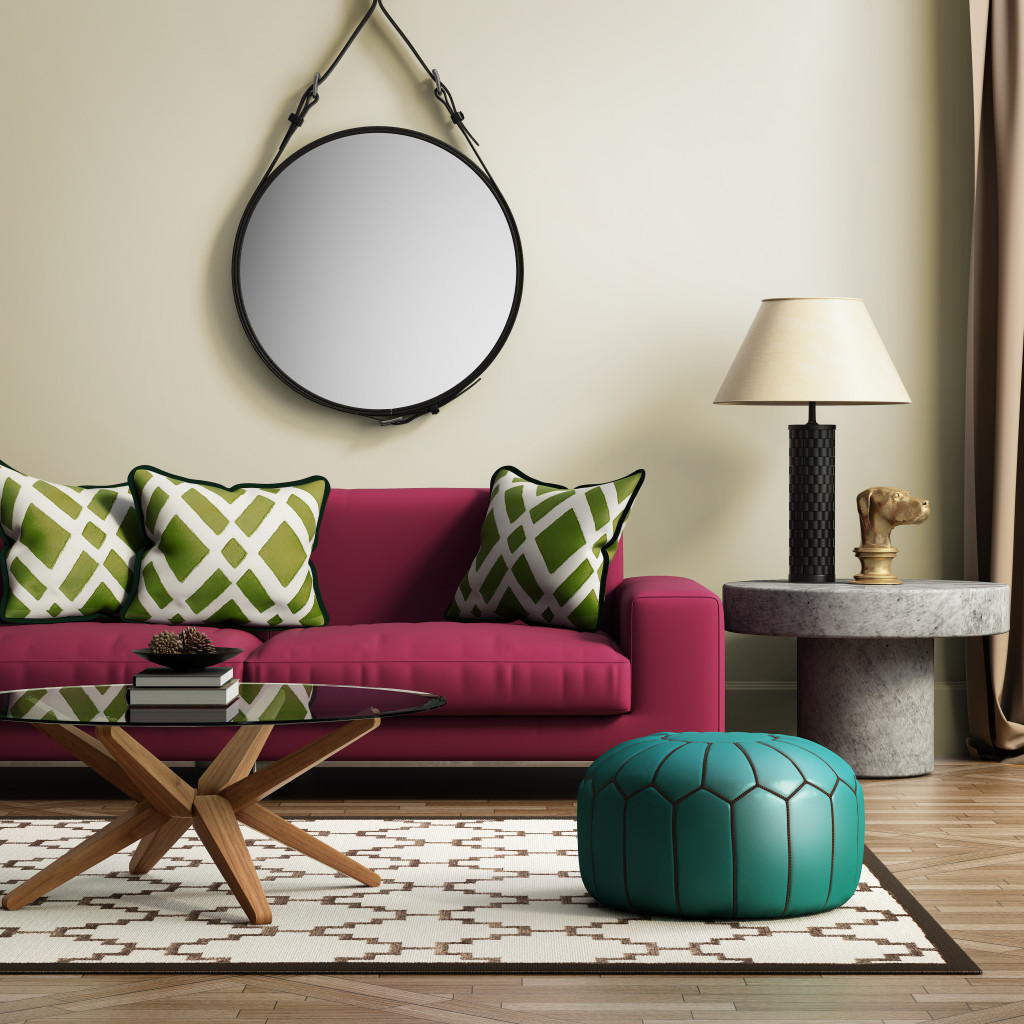 REDECORATE ON A BUDGET TIP 4
Lovely Lighting
Nothing improves a room more than the proper lighting. I love choosing a ceiling pendant that will reflect pattern through its shade around the room, or just onto the ceiling…glass chandeliers are excellent at doing this.
If you already have directional spot lights, check where they are directed to! Make sure you are shining them onto something lovely like some art, or a fireplace or even just a plant, anything other than a bare wall.
Do you have enough lamps? Having pairs can be very effective on side tables either side of a sofa, on a console table or either side of a bed is very stylish.
Floor lamps are often forgotten about and are great to use if you have a corner space that looks slightly empty. They support the lighting scheme by adding a beautiful glow when lit, but don't be tempted to ram them behind something in a corner, they need space and they need to be unobstructed!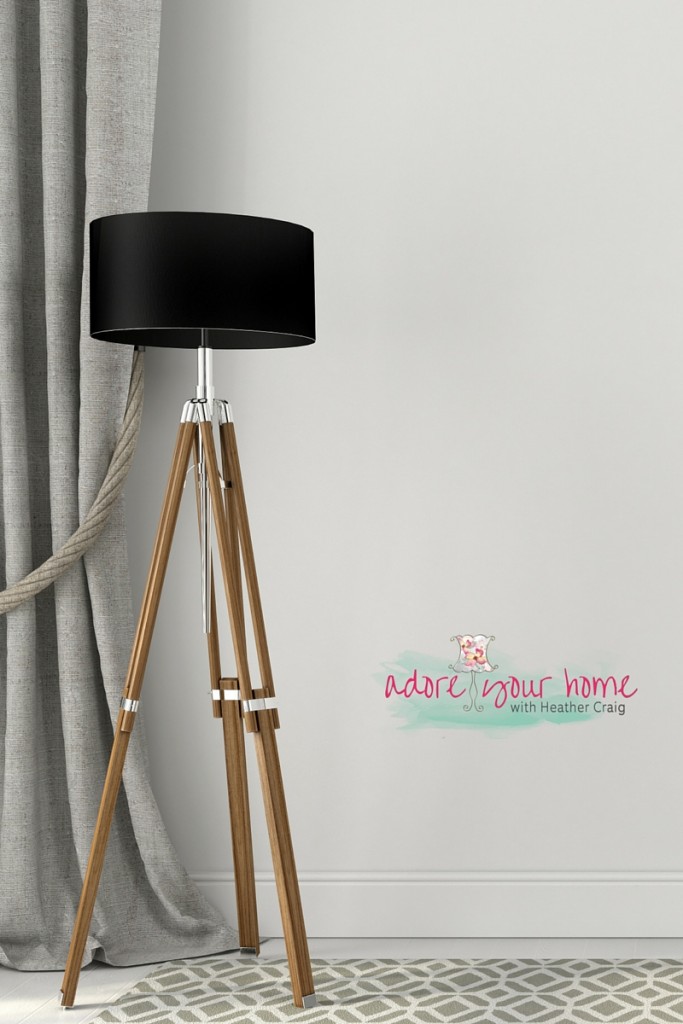 REDECORATE ON A BUDGET TIP 5
Get Daring with Bold Fabric
If you are feeling that your space is a bit safe and neutral and could do with a lift, but you are secretly rather scared of choosing bold fabric, here's a low risk way of making it work.
Get something upholstered such as chair, a headboard, a footstool or ottoman. Think about the style and what sort of pattern would work best…here are some examples to get you started:
Floral, geometric, traditional, animal print, stripes, checks, quirky, modern, childrens.  Now once you know what sort of print you are after you can go source some samples, make a shortlist and finally choose one to have your item covered in.
I'm always suggesting this as a super stylish way to have a very original space. This is your statement piece (in interior jargon)!
This is one I designed for one of my VIPs guest bedroom
REDECORATE ON A BUDGET TIP 6
What's on the Windows?
Maybe the last time you made do with a pair of curtains that no longer look great, or the blinds are a bit tatty. New window dressings will certainly make an impact and what I love to advise people to do is to consider layering. Having a double pole gives you the opportunity of having a light sheer curtain with a heavier main fabric on top giving a sumptuous look. It can be achieved on a budget with places like B&Q selling double poles.
REDECORATE ON A BUDGET TIP 7
More Boldness
I'm usually advising my clients to carefully consider the scale of furniture and things in their space, so if the room is on the small side a big 3 piece suite is going to be a disaster, but on occasions breaking that rule is definitely the thing to do!
Having something thats oversized will make a striking impact and a fantastic focal point. A great place to achieve this is to have a large grouping of artwork, or even one huge piece on a wall. It will take a bit of skill, but the result will be fabulous!!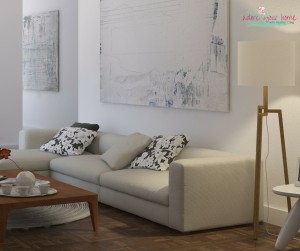 So, next time you plan to update a room with a fresh coat of paint, think again!