Introducing my
Designer-On-Call package!
Imagine having me on speed-dial?!
You can call me for immediate advice and support for any home decor dilemmas,
just when you need it.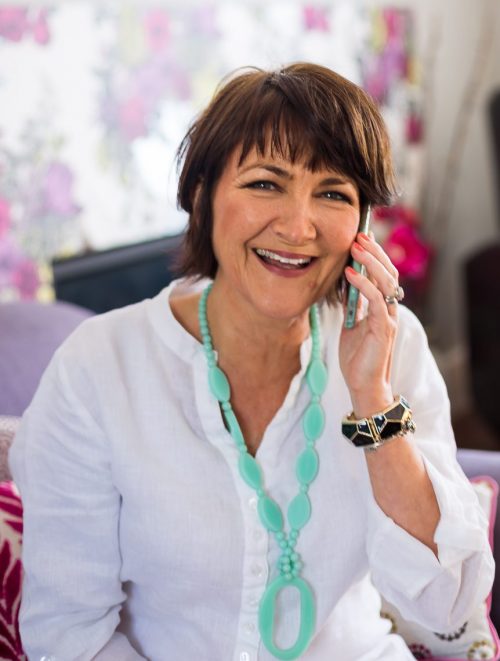 I'll save you precious time and money and help you avoid mistakes with your home decor.

So if you're ready to sort some areas of your house out, but lack ideas and maybe confidence and have avoided getting started, let me share all my design knowledge with you…your home will be just gorgeous!
HOW DOES IT ACTUALLY WORK?!
You can call me for advice when you need it. You'll have my direct number and I'll be available to coach, advise, give ideas and suggestions and generally be your designer-on-call. I just keep a note of the time used on each call or visit.
This is where I'm at the end of the phone for you when… 
you're making any purchasing decisions from scary ones like a sofa to smaller ones like a cushion
or choosing paint colour or wallpaper
or fabric to cover a chair with
or scratching your head over furniture layout
or what curtains you need 
or cushion colours 
or flooring types
or lighting
or the outside colour
or you havnt a clue where to start
or anything at all to do with your home that you need a little guidance and some expert advice on!
If you've ever bought something and regretted it, wasted money AND had to live with it, or painted a room and secretly loathed it, or paid to have it redone, or struggled for far too long over finishing (or starting) a room, or looked at your home and wanted to cry because its boring and bland and you could weep…then get me involved.
The money I can save you will pay for my time.  Doing up your home can cost a lot so you need to know every penny is spent wisely.
I'm sure you'll want to chat to me, to make sure this is exactly what you need so you're very welcome to email me on heather@adore-your-home and we can arrange a chat over the phone, before you jump in, so you're absolutely happy!
Heather
"I literally cannot recommend Heather enough!
She is warm, friendly and so knowledgeable!
I am so excited to get cracking with my decor!
I actually thought I was not too bad at interior design but I've learnt so much in just an hour!
Thank you, Heather!
Can't wait for our next session!
Xx"
UPDATE!!!
Hayley has since put the advice into action and messaged me with…
"I LOVE my living room.
The teal sofa and chair and rug all blend so well.
I'm so glad I did that session with you."
– Hayley Gillard
Hayley Gillard
"I'm loving working this way with you Heather and really enjoying doing up my home with your help.I love that youve helped me re-use some of my own things and showed me the potential of my house that I'd never have thought of."
Kate Stewart
professional help that will give you great ideas