I have one perplexed friend who has just told me she is very scared of bursting a blood vessel, as she does annually when anticipating the ritual of the family Christmas tree decorating. Her children understandably can't wait for the season to be merry, the house being festively decorated and the utter excitement and anticipation of presents. However, they are bringing home a continuous and steady supply of cardboard and cotton-wool laden glittery creations, which she dutifully admires… through gritted teeth.
She confessed she secretly dreads that the tree will, yet again, will resemble a dog's dinner.
I think she is going to have to find a little seasonal goodwill in her heart and hang them on the tree anyway. Sorry!
So, for the rest of us, here are some tips on how to actually decorate a tree. Plus a few style ideas to help you choose a style!
Decide on a tree
Real or fake. I do like a real one, but I have to admit that the fake ones are so good that they do an excellent impression of the real thing. And you only have to buy them once and re-use year after year, which is appealing to the finance department in my home!
We were actually given an artificial one, which I then felt compelled to use and it's just fine. But, the choice is yours. Oh, and before you say a real one smells wonderful, and yes, it can do until it dries out, I buy pine essential oil which lingers around the room beautifully! (I dot it on the wood logs for the wood burner!)
Choose a Style – here are 6 ideas!
Now when I say choose, it has probably already been chosen for you by the style of your home. It's easy to get distracted by the array of beautiful trees in the high street windows, but you really should look at your home, the room where the tree will sit and just go with that. Otherwise, it will look un-cohesive. I know that isn't even a word, but you know what I mean. When I'm designing a room, one of the early decisions is to nail the style and stick to it.
So don't put a very modern tree in a country cottage rustic home.
That will be a dog's dinner.
Here's a list of potential tree styles…
1. Classic
The standard red baubles, maybe some gold tinsel along with warm white fairy lights. Avoid those blueish cool lights, they are for the modern look. And don't forget that all the rest of your Christmas decorations should look similar, including the wrapping on the gifts. I love this style, it fits with my decor and just feels very nostalgic.
2. Modern
If you want to do something modern, this is the sort of thing that could look amazing. It's from John Lewis. Very simple and understated and would look very striking in minimalist modern decor. I'd add a few, maybe only 5 actual baubles in the room colour, but they would have to be very contemporary!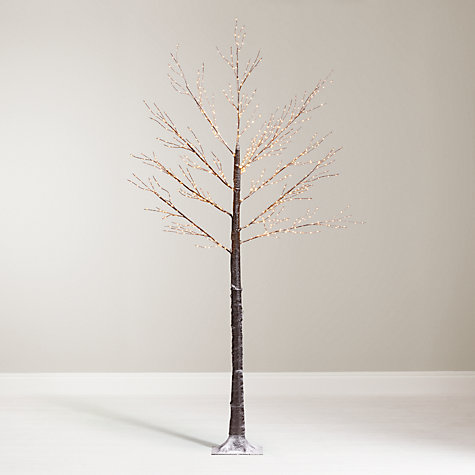 Look how gorgeous it is in the evening.
3. Skandi Style
Simply beautiful. The key here is to underdo the number of decorations, which can also include homemade knitted things! And look at that lovely branch in the jar on the side table…how simple would something like that be, yet how effective?!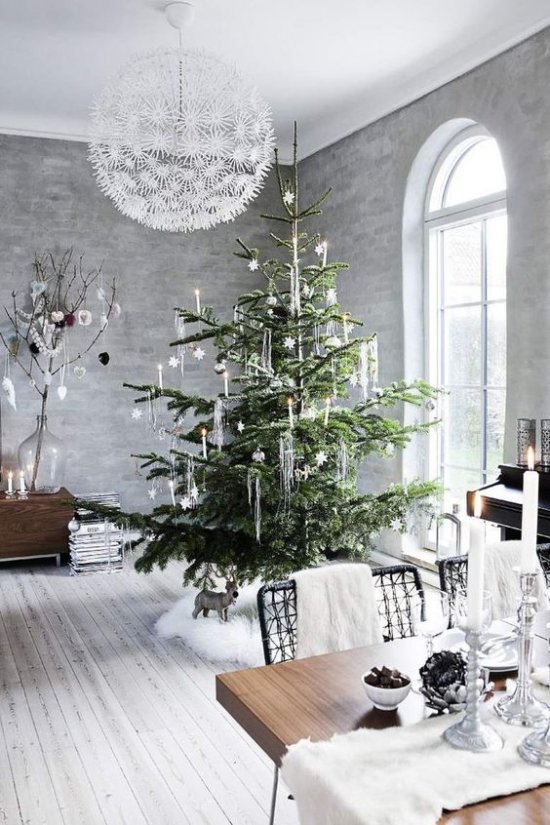 Lookslikewhite
4. Country or Rustic Woodland
This style uses lots of organic things like pine cones and wooden decorations. The colours are all muted and natural, with a touch of white and gold to give some extra sparkle. Really attractive in a more relaxed, rustic or even country home.
5. Eclectic
Non-traditional colours like bright pinks are key for this look, which is sort of the opposite of the traditional colours. Turquoise and lime green or whatever suits your eclectic modern home!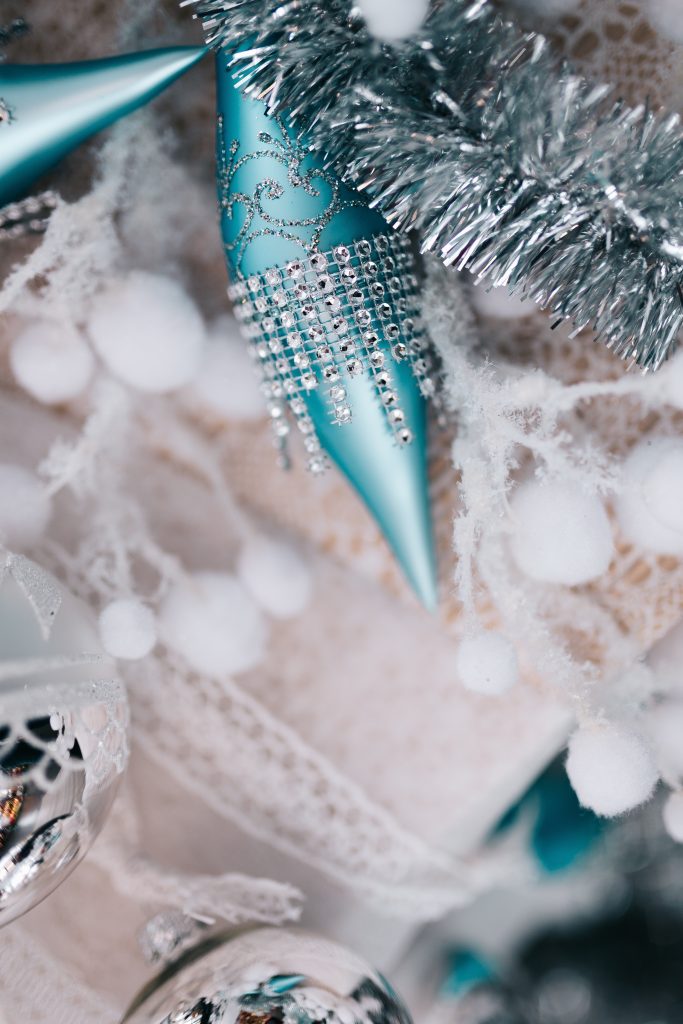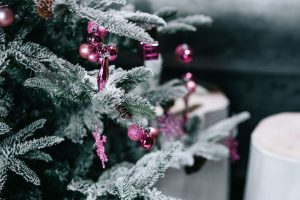 So, if you decide on this style and choose to decorate your Christmas tree in pink, carry that through to the rest of your decorations, like the table settings or any little groups os accessories like these below.
And don't forget, small groups of things sitting together are much more effective than dotting individual things all over the room! You should also wrap the gifts in similar pink colours too for a stunning overall effect.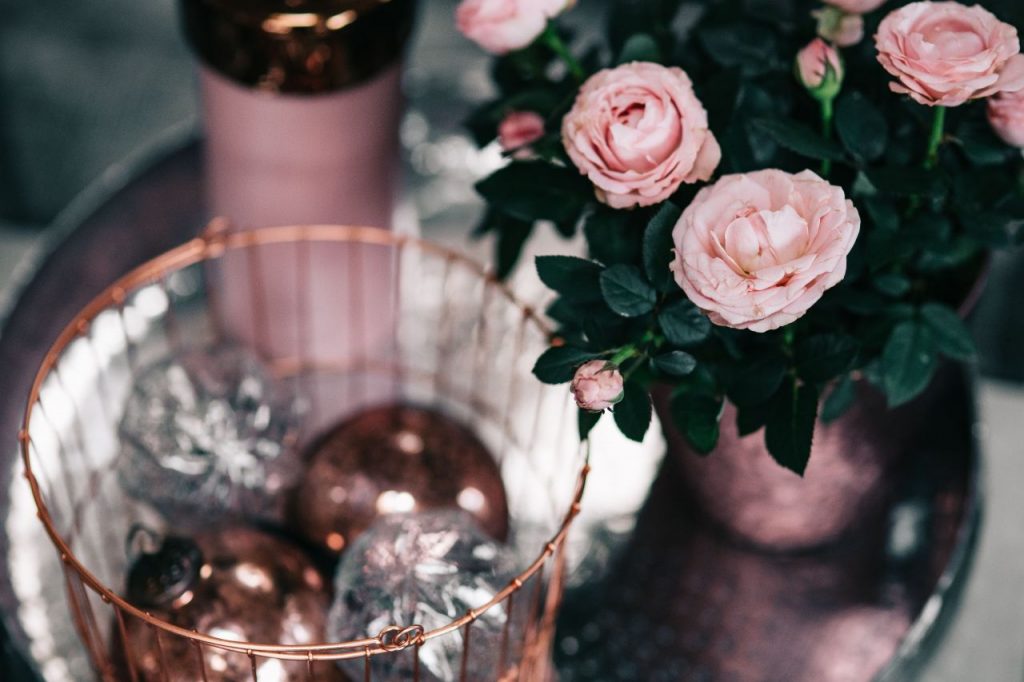 6. Rainbow Effect
I'm loving this clever idea using colour in a graduated way. As a huge colour lover, this really makes me want to shake up my own traditionally styled tree and maybe be do something a little different, within the same theme, like this. But not liking what is going on at the top?!  Looks a bit sci-fi…a bit too much of a departure from the theme!
Topper
Choose a topper that is lightweight and is within your chosen style.
Tree skirt
These are really useful for hiding all the wires from the fairy lights as well as the base of the tree. Again, stay on theme.
So, once you have your style chosen, the light and decorations bought, get decorating. Lights should go on first followed by large baubles or decorations, the smaller ones, then tinsel or garlands last. That's the best order.
Oh, and keep everything evenly spread over the branches from top to bottom. Unless you're doing something modern and quirky, in which case you can forget what I just said and do some random tree dressing!
Now, if you would like to hear more from me, there are my two free ebooks below which you can sign up for and then you'll get my newsletter with all my designery chat!
Plus I have a great free colour masterclass, which you can instantly download here which is all about how to add the right colours to your rooms. Its only 45mins long and you'll get lots of inspiration!
Colourfully,