Welcome!
Are you tired of wasting your evenings & weekends flicking through house magazines or browsing on Pinterest for inspiration, desperately trying to pull together a room that you and your family can enjoy (that's child proof)? 
If you're a busy lady juggling your family's needs, never mind your own work, and you want a nice home for the children that's still beautiful enough to bring your friends round (and have some grown-up conversation) then you are in the right place!
Here's what I know:
Your spare time is very valuable (and rare). 
You're slightly fed up searching for ideas you could use in your home, late into the evening (when you should be getting beauty sleep) and never getting round to implementing them.
You've been thumbing through lots of house magazines and making files and folders labelled, 'Lounge', 'Bedroom', 'Storage Solutions' but when you go out shopping you feel like every purchase you make for your home is a life and death decision, so you get stuck in the cul-de-sac of indecision.
You can stop losing sleep now, I'm the one you've been looking for and I can get you moving forward (and not round in circles!)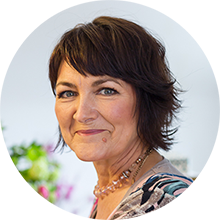 Why Me?
I have absolutely been where you are, with that annoying frustration of wanting a room updated to work with the current family needs (which have a habit of changing without you noticing).
Like a lounge that actually seats all of you and even a few extras and isn't overrun by toys.
Or a child's bedroom that's got storage for everything (even if the room is tiny).
Or a boutique styled bedroom for you, where you can go and regain your sanity…!
I'm here to help you calm the chaos.
I work mainly with people like you to create beautiful, easy to maintain and family orientated spaces.
I'm Heather and I'm mad about colour as well as being the boss at my own business, Adore Your Home.
I love to help busy ladies (like you) who just want a beautiful, relaxing, fabulous, stylish home and want it finished, so you can finally enjoy living in it.
I work with the things you have already after all, very few people ever start from scratch.

I love the challenge of creating the best possible colour scheme and room layout with those lovely and precious things you want to keep. 
Budget – knowing where to spend effectively, so it has the biggest impact is what I do best…I love mixing in budget items and saving the cash for where it's needed!
I specialise in getting your home designing headaches OFF your to-do list (it's a bit crowded on there anyway!)
I know what that feels like which is why I have set up my business, for people like us. I can give you creative, experienced help to make your home the home that you love living in, where everything just looks fab and the whole thing simply works!
If you'd like to keep up to date with me you can sign up for the newsletter, or download the free e-book '10 Fabulous Interior Design Secrets (so you can achieve that designer look) on the right hand side of this page.
With my help, you will learn to Adore Your Home!
What my clients have to say
"I wanted to convert my spare room, which we just used as a dumping ground really, into a new bedroom for my 13 yr old daughter as she'd out grown her brightly coloured and rather tattered room. Heather came up with a fabulous shabby chic new room with gorgeous colours and a great practical design…"
Anne Cavan, Belfast
"My sons room was tiny and was a constant untidy state as he had no storage for all his school and sporty gear. Heather cleverly selected new furniture that had great storage and maximised the floor space, and it was in a very 'cool' design, he said!"
Heather Smith, Belfast
A little more about me…
When my own children were small I started and grew my own wedding stationery and card business and hand painted the designs – it grew to such an extent I was selling to places like Harvey Nichols in London and hotels in Dubai and posting stationery to weddings worldwide.
It really allowed me to indulge my hibernating creative side, but at the same time I was always designing, painting, creating and planning my own home. Others would then ask for my help too, so I took a big step and went back to college to gain an Interior Design qualification, which I was always secretly dying to do.
I sold the card business and started my interior training, as all I wanted to do was help other people, like me, make the very best of their home, on whatever budget. I do this by providing great designs that bring creativity, design and style into people's homes.
I wanted to save people money they were wasting on buying the wrong stuff for their house – you'll know what I mean if you have anything you regret buying (that maybe cost a fortune).
I wanted to provide a bridge between interior magazine ideas and what's actually in peoples homes.
And that's what I specialise in now…and I love it!
How can I help you?
My best selling service is anyone of the 3 levels of e-design, which is all done from my laptop to yours, or your iPad (because we are Oh, so modern, and busy!)
There are 3 levels because some people like to get it all handed to them on a plate so they choose the Platinum level, which includes all of these: a digital mood board, paint colours and/or wallpaper selection, 1:1 Phone call (1hr), floor plan, shopping List, to-do action plan and e-mail support (1mth).
And some just want simply the design but are happy sourcing and doing bits themselves, which costs less (Silver or Gold level). If you are local and prefer the VIP treatment, then I have a VIP package that's great if you just want to have it done for you.
I also do a brilliant value Design Clinic if you just want to ask a quick question to get unstuck. So, I look forward to hearing from you, please email or call if you'd rather chat about how I can help you.
Moving? Are you trying to sell your house?
I've got this problem covered too…
You probably need to get your home sold quickly and for the most you can get for it.
This is a slightly different, if a temporary problem! Your home has to look it's very best to give it as great a chance as possible for someone else to absolutely love it (and make you an offer), but it's not maybe how you would like it… it's how your buyers would like it, that's key. I can help with this too. It's called Home Staging and I have specially trained in it so I could add it to the range of services I was able to offer.
The interesting thing is it is almost the opposite of interior design, which is all about you and your taste and style, however, Home Staging is all about the viewers and helping them to fall in love with a house and want to buy it.
I am a fully qualified House Doctor Consultant with the UK's House Doctor© Network (channel 5′s Ann Maurice).
This training has given me the skills to present a home for sale with the sole aim of getting the most money for it in the least amount of time while keeping any spend to an absolute minimum.
Check out how you can optimise your chances of moving to your dream house here!