Have you plans to sell up in the near future?
If you have decided to sell your home and are dying to move on to a new chapter I want to tell you how you could hopefully do that more successfully & with less stress.
Selling your house for the best price and as quickly as possible is what everyone wants, so let me introduce you to Home Staging, or Property Presentation…which is a specialist technique that can really have a huge impact on how much your home sells for.

I am so excited about sharing this with you because I have first-hand experience of peoples huge relief and utter joy when they get a great price for the house they no longer want and are then freeeee to buy their dream home! 
---

What's the difference between interior design and staging a home to sell?
Now, I often get asked what the difference is between it and interior design and what I tell people is that they are practically complete opposites!
Yes, they are both about making a home lovely, BUT, if I'm working with you and we are creating, say, your dream master bedroom, I'll be finding out all about you, your tastes, styles then designing a fabulous space you will adore. Whether that's somewhere to hibernate, with deep warm colours and rich sumptuous textures, or its a light and airy room that you can unwind and relax in, it's will be all about you.
However, if you are selling your house, that same master bedroom needs to appeal to potential buyers first, (not so much you) so it needs to be all about their tastes.
Anything too 'much' or too personal will not go down well, it's about editing your things and depersonalising the home.
Most people are looking to buy a clean, clutter free home that's fresh and welcoming, so they can move in with ease and their belongings will fit and look well.
How I like to describe it is this…
Just imagine that feeling of entering a lovely hotel room that has no trace of anyone else ever being there…that warm, fuzzy, pampered feeling you get – that's exactly what you need to try and create.

So what really is HOME STAGING and why do I need it?
Its ultimate aim is to get your home sold for the best possible price. I know you want that.
The next aim is to get it sold as quickly as possible, so it doesn't become one of those properties that hangs around and you remain stuck. And fed up.
Home Staging is a specialist interior technique used to prepare a house that you want to sell, to help ensure it has much more success on the property market than if people saw it the way it is.
It involves making subtle changes to room colour schemes, improving furniture layout and enhancing the building's best features. The aim is to greatly distinguish it from the other houses for sale nearby, so it attracts more offers and consequently, hopefully, sells for more money in a shorter timeframe.
Like being 'best in show'!
Essentially, it's about getting a house thoroughly cleaned, spruced up and looking it's absolute best on the lowest budget, ideally before it goes on the market.
Applying home staging techniques will create an inviting atmosphere, highlight what's good about the house, and make viewers feel they could move in tomorrow without having to do too much. 
Home staging is about taking as much of 'you' and your personal taste out of your house as possible because that gets in the way of buyers visualising themselves living in it.
Don't take it personally!
Viewers need help to forget it's your home.
It's about making that first impression with your viewers strong, memorable and absolutely fabulous.
Remember, viewers generally want to buy something that is better than what they are currently living in, so it's all about helping them see yours has lots of space and plenty of natural light which most people want more of!
Let me SHOW you what I mean
Here's a great example of how the technique actually looks like…this is a living room that has been home staged (by me) to sell and WHAT a difference!
But, here's the thing, in this case, all I did was rearrange furniture and add a bit of colour. Cost: 50p. Ok, a bit more, but you get what I'm talking about!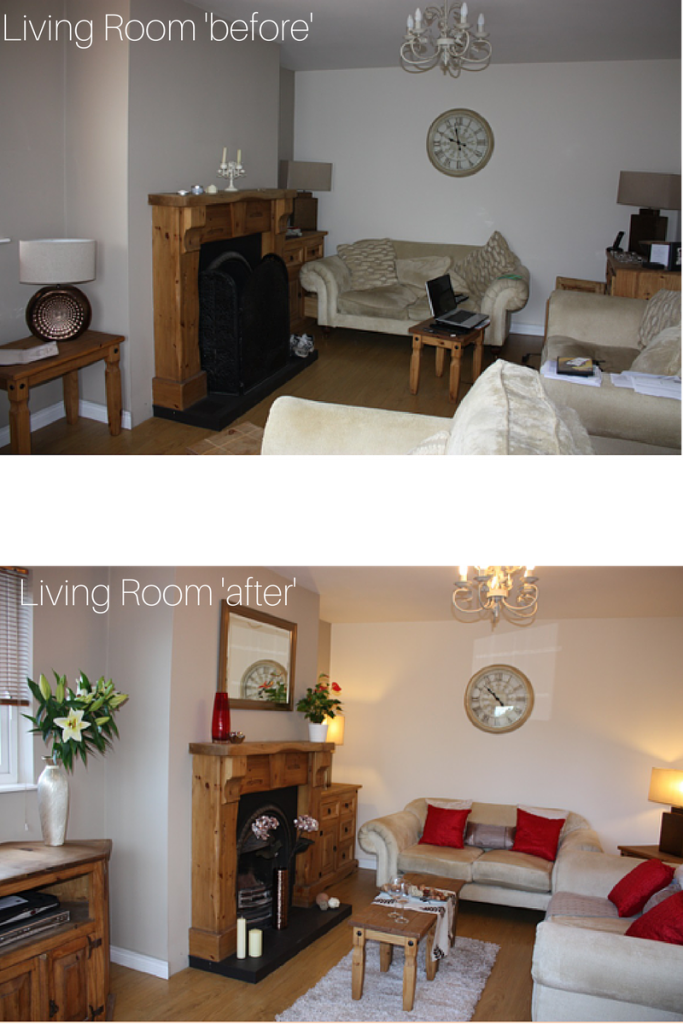 If you'd love to learn more I have written a free eBook which you can download here instantly, or fill in the form below…its called:
"50 Fabulous Tips to Make Your Home Irresistible to Buyers"
Most of my tips are free or very low cost to implement, so even if you only put some into practice, you'll notice a big difference.
In my experience, buyers are always looking for a reason not to buy,  to pick flaws,  so your job is to eliminate all the things they could possibly complain about.