Behind The Scenes At My Glossy Magazine Photoshoot
So Exciting! I had got a call from a top interiors magazine a few months ago who wanted to know if I'd be interested in them doing a bit of a feature of some of my work!!
Emmm, yesssss please!
The editor had seen some of the rooms I have designed and thought she could run a feature in a future edition.
Yikes!
She wanted to do an article on a whole house.
Very delighted.
So, I then had a job deciding which of the homes I have worked on would look great in a magazine and more importantly, which of my lovely clients would be agreeable…it's not everyone who would be. After a bit of dithering, the one I chose was one I really, really enjoyed doing and had actually worked on from the ground up. It was literally a new build.
The lovely lady who was moving in had basically a blank slate and was totally overwhelmed with all the choices ahead of her. She said that if it was left up to her she would end up with a white (or cream) dull and boring house, just like the one she was moving out of. She really wanted a home that had proper, grown-up colour. She was fairly vibrant herself, with an eye for her own clothes, so she wanted this place to be more like her. Not like her old home which was drab.
Her words.
She wanted the colours to flow and work with each other. She had a few new big ticket items to buy…sofas etc and didn't want the same old thing. No brown leather or cream fabric sofas were to feature!
Now, all that was music to my ears because I knew I could absolutely deliver that. I just knew what she was dreaming of and when someone is open to using more colour, well, the possibility of delivering something awesome is there!!!
I did have to coach her and hold her hand through some of my choices, but she was brave.
When I showed her the entire plan room by room, with samples of everything to help her visualise things, she relaxed. She was more confident when she could see how it would all pull together. Afterall, it was her home and she and her family have to live there, so I'm always very careful to remember that.
When the magazine rang I had almost finished every room, but what was remaining was the final layer of accessories. So when I was chatting to her about all this, she was delighted at the opportunity for me to get my work featured in this high profile publication and agreed entirely that I could use her home.
Happy, happy dance!
It actually gave her the push she needed to get going with the last phase of the entire process, which was the final styling and accessory selection and purchasing (the fun bit).
So, I spent some deciding which areas needed styling and finishing, what she already had and what new things would look fabulous and put the icing on the cake. I then headed to the shops with my well-planned list, so I knew roughly what I was looking for.
Now, usually, I would be able to shop online as well, which obviously offers more choice and convenience, but I had a deadline and simply didn't have the time.
All this needed to be done before I would let the magazine in!
6 Steps To My Properly Organised Trip
1. I made a list of which areas in each room needed styled.
2. I checked what the client already had that I could use.
3. I took photos (with my phone) of every room and area.
(Soooo useful to do this because when you're out in the shops and see something and wonder what it would look like, referring to a pic of the room really helps make the right decision and avoids the nuisance of returns!)
4. I looked for some inspiration in magazines and on Pinterest to get a few new ideas about styling.
5. From there I created my shopping list and a list of the actual shops that I could get round in a few hours.
6. Then off I went, knowing what I needed, more or less.
This is my basket I was trailing around in Dunnes Stores. I was amazed by their gorgeous homeware section! They are online if there isn't one near you Dunnes Homewares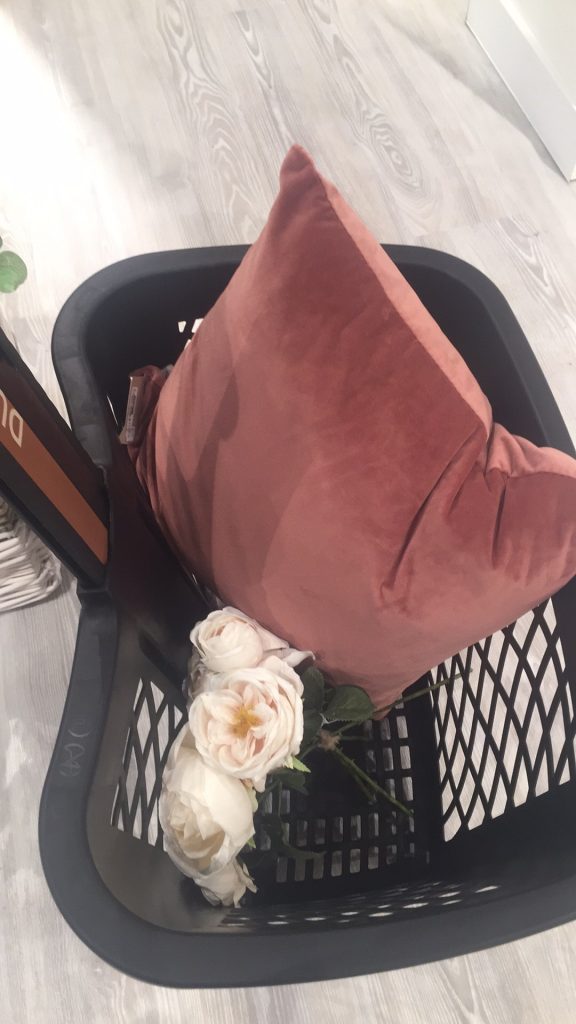 I spotted this gorgeous sofa there with these beautiful plush velvet cushions…I love a coloured sofa (as you may know)!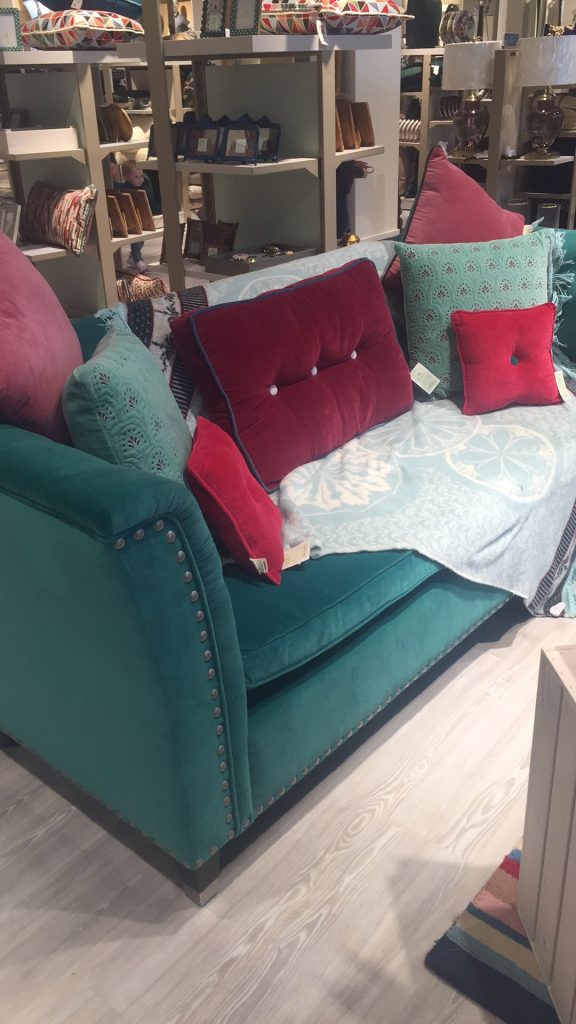 So, on my return home I unpacked…here's a small selection of the beautiful things. Can you spot the artichoke ornament!?! You'll see it later on a sideboard.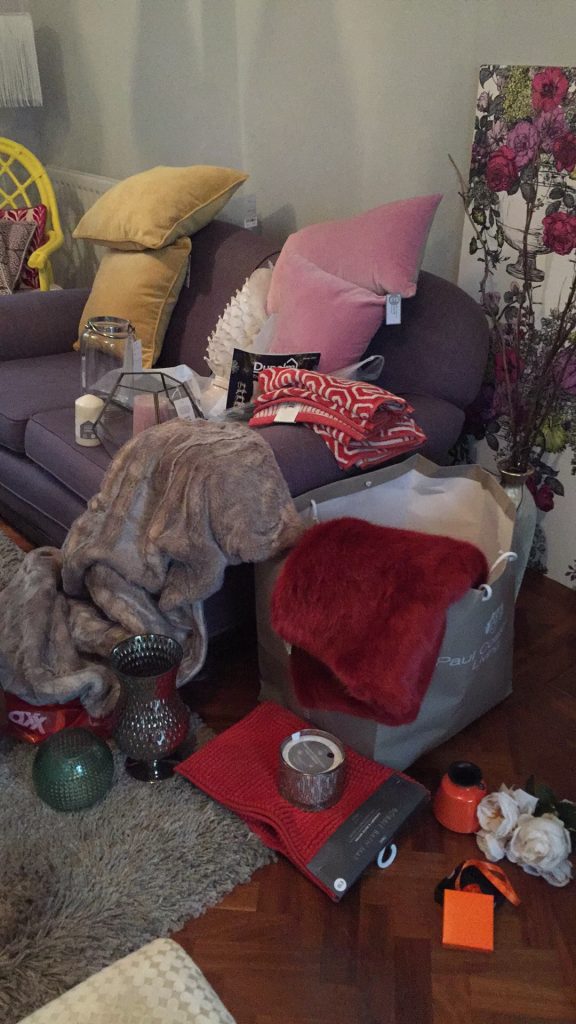 The Day Of The Shoot
The house was thoroughly cleaned and the children were at school. Phew.
I made my way there with my car packed to the gills full of the things from that one shopping trip, but also green plants and flowers from another trip. I was like a travelling jungle!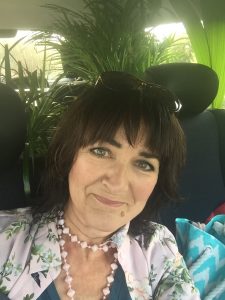 I then had to bring everything in and set it all up before the cameraman came. Flat shoes required.
The Finished Rooms – All Ready To Be Photographed
Here's a few photos I took of the finished home because I wanted to give you a little peek into the whole day.
This is the living room. Do you like how my bunch flowers, to the left of the wallpaper look like the wallpaper!? In the silvery urn thing that also looks like the wallpaper!!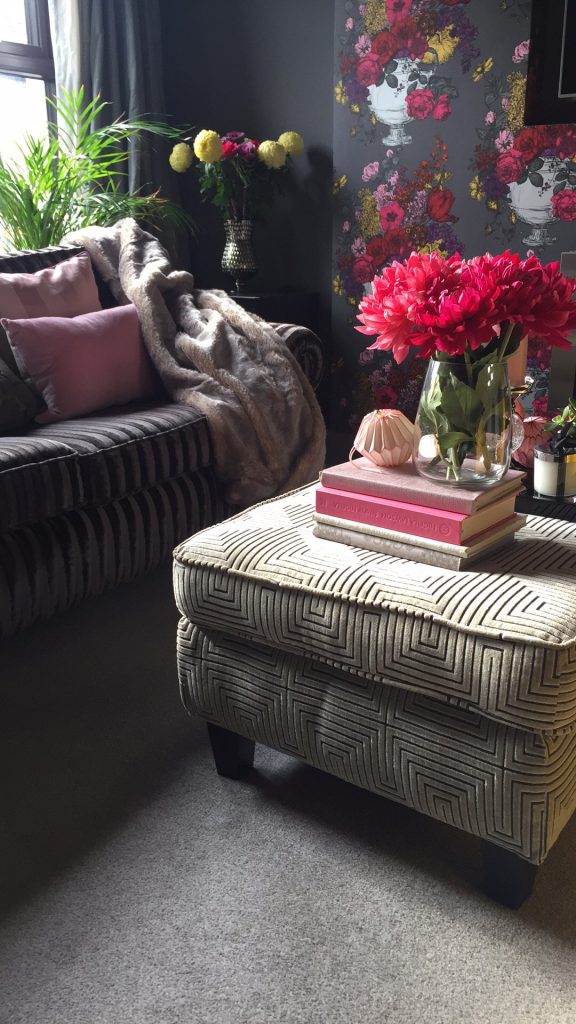 The main styling was on the ottoman!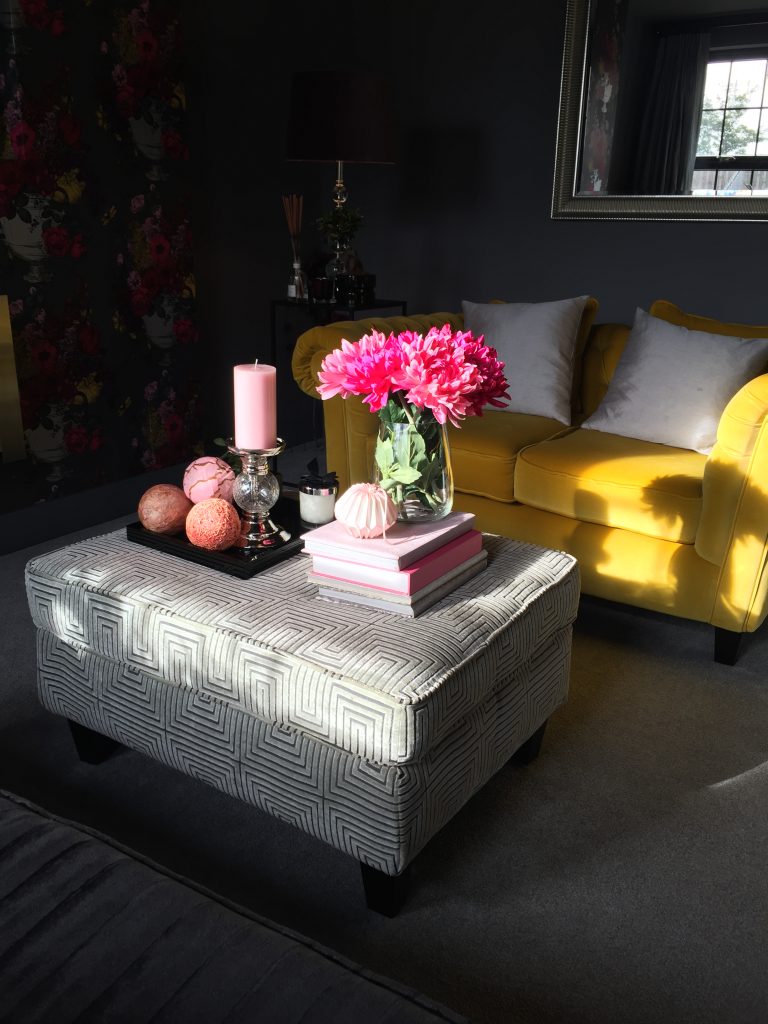 This is the open plan living area! I loved the hanging basket and wanted to add 2 more, at lower levels, but time ran out. Loving the way the light from the spotlight illuminates the plant!
Love the hexagon mirrors too… they are from M&S, if you click the link they may be still there and were only £19.50 which was brilliant – M&S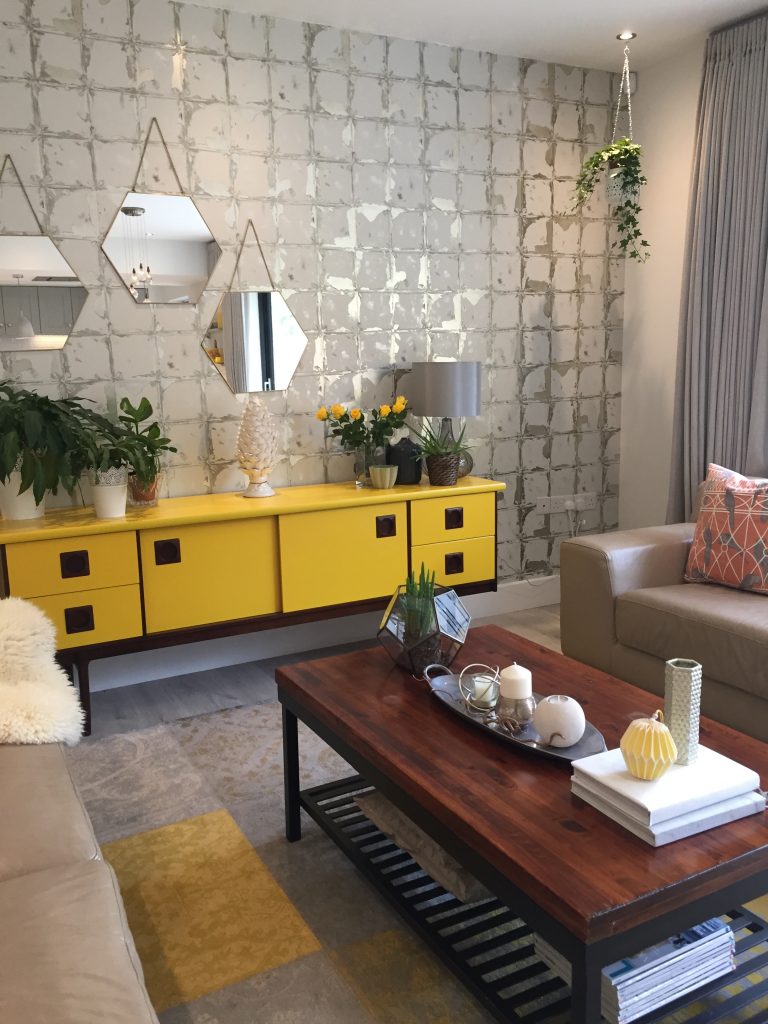 Coffee table styling!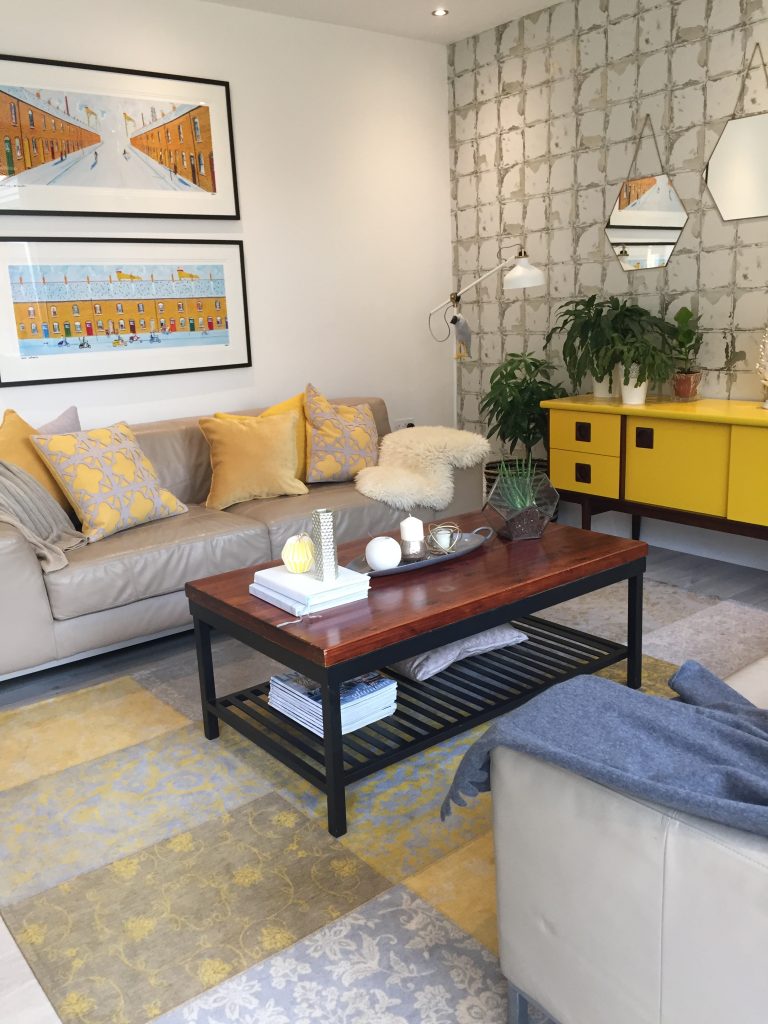 There are a couple of shelves in the kitchen which I needed to add to, so I bought this yellow frame, picked from a selection of wallpaper samples I had to create the art and placed it on the shelves…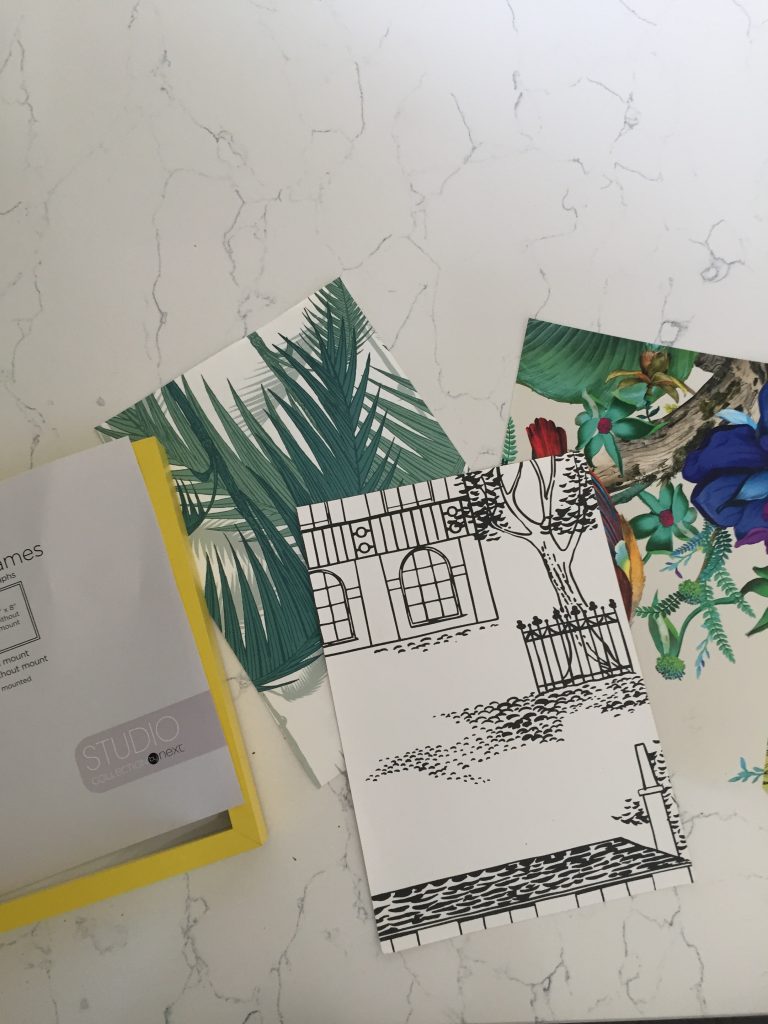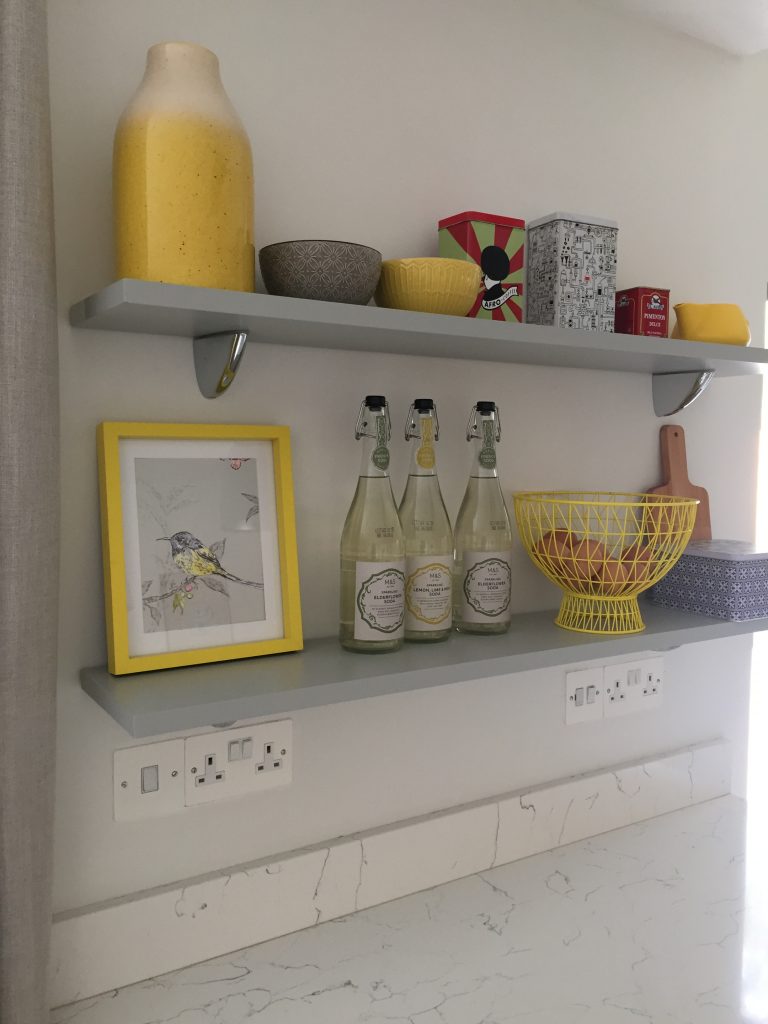 Next was the master bedroom, with it's burnt orange accent colour created with a boutique hotel theme…the oversized headboard on the sparkly wallpaper gives it that rather opulent look!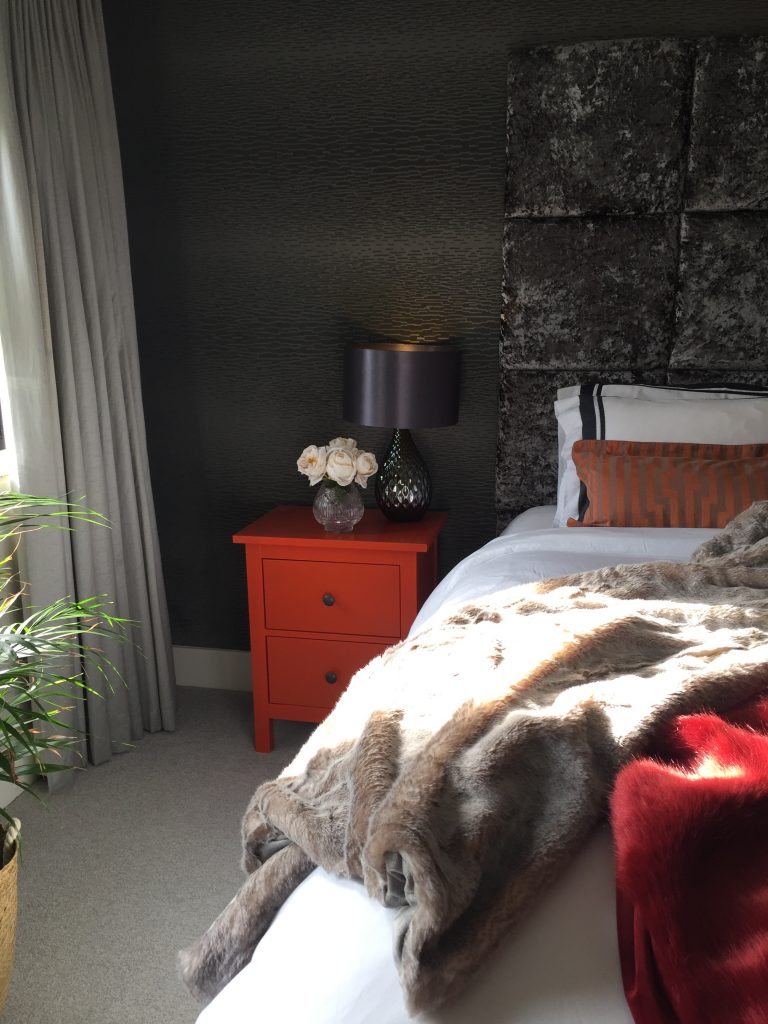 and there's a rather beautiful dressing table in the room too, which features an upcycled dining chair in some lovely burnt orange velvet fabric.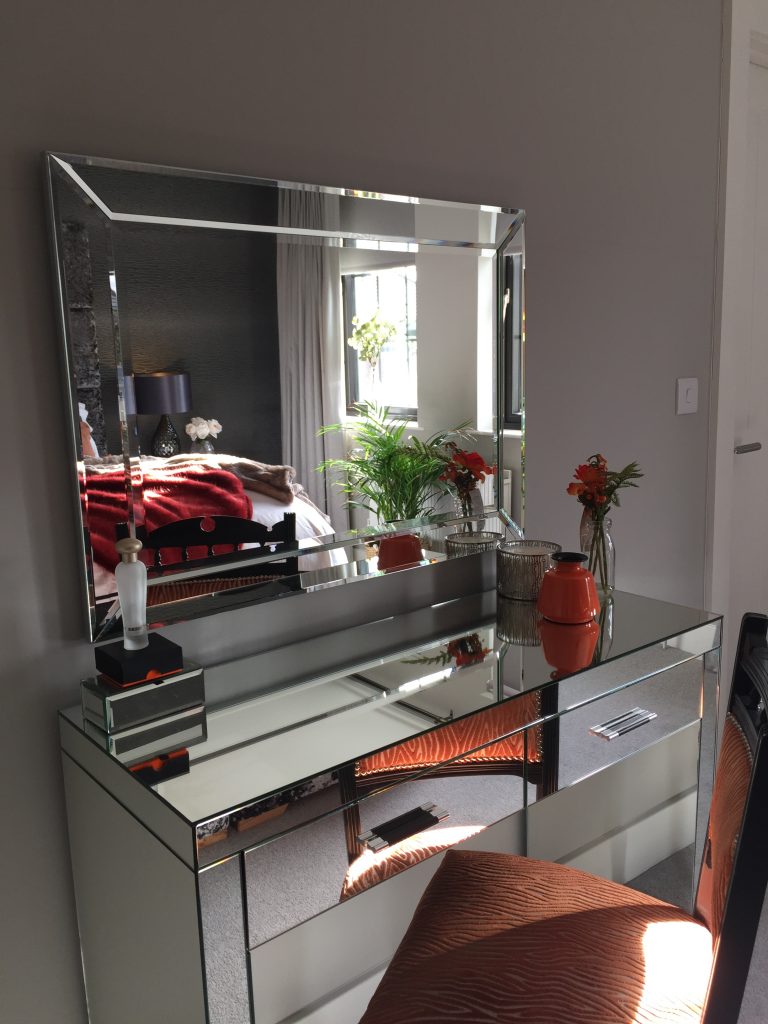 and not forgetting the spa-style master-bedroom ensuite complete with burnt orange accessories to flow through from the bedroom!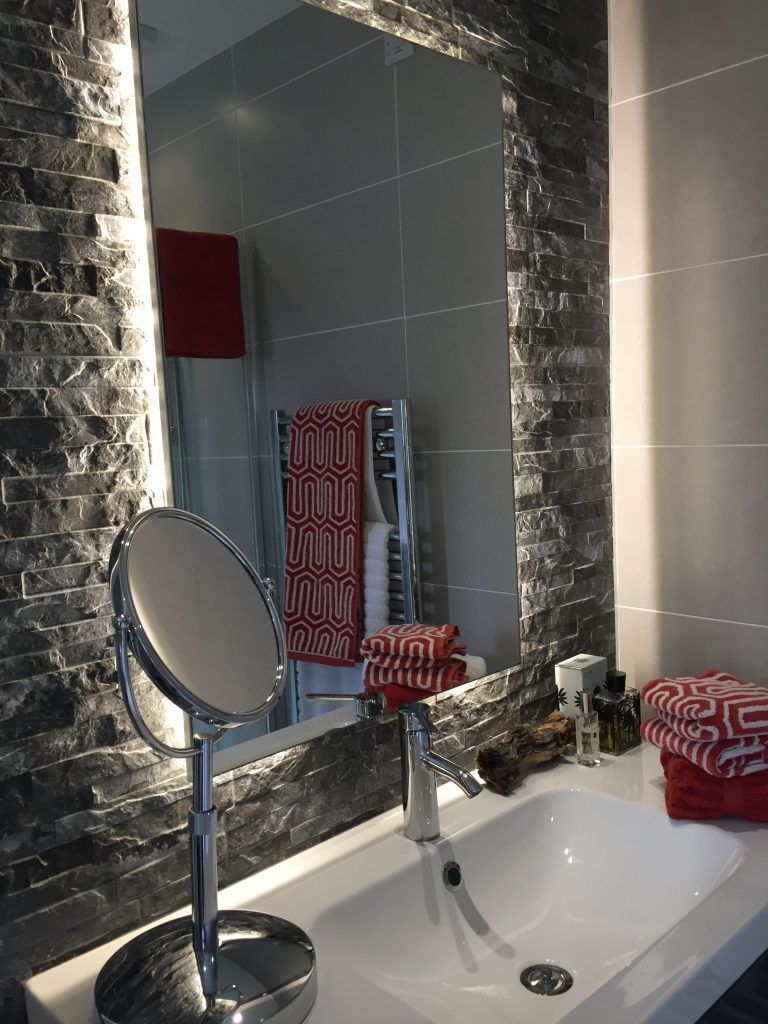 This is a very quirky downstairs loo and cloakroom with the most gorgeous wallpaper. A small space like this, where you don't spend much time in, is ideal for an all-over bolder pattern!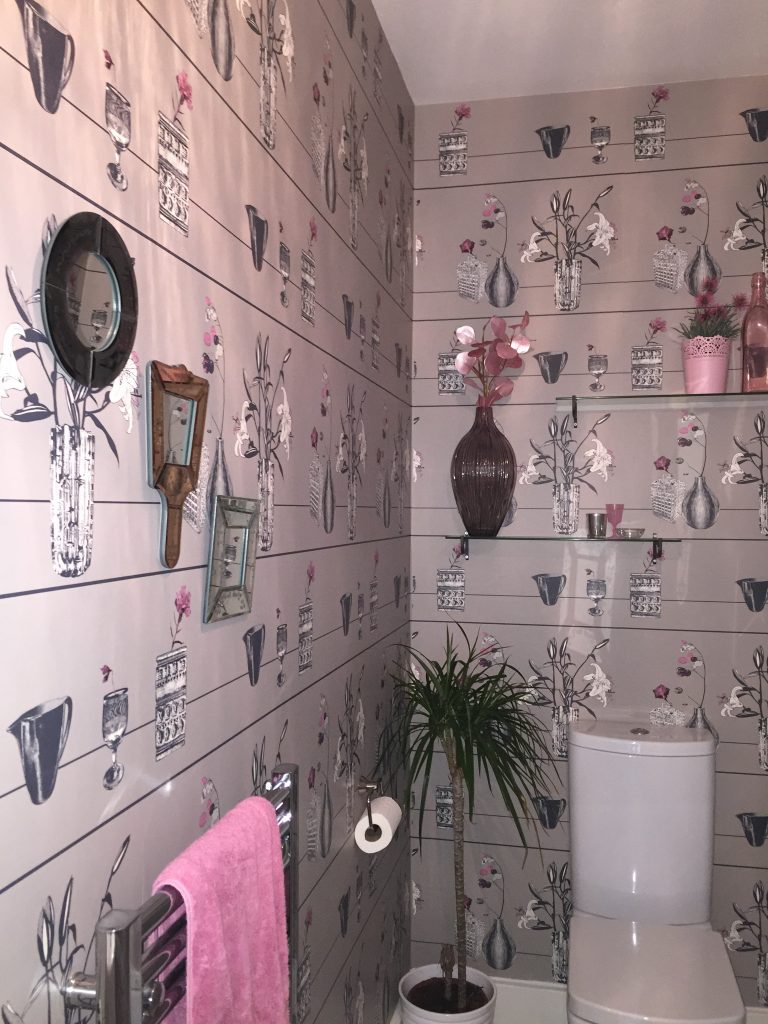 The photographer also took a couple of me perched on my favourite yellow sofa.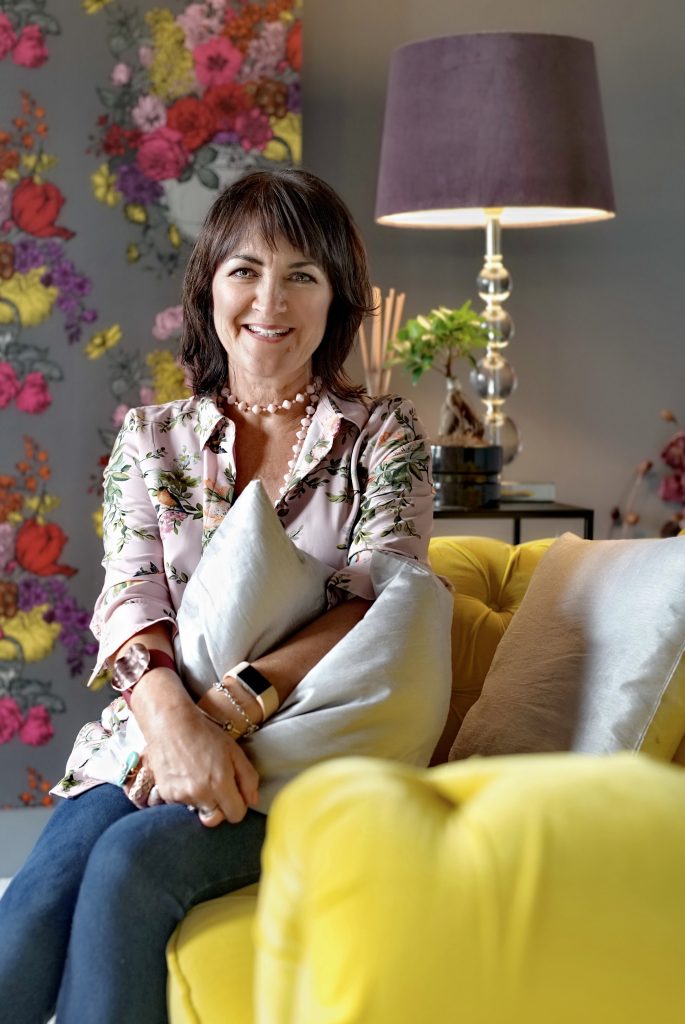 And that was my day…I packed up a few things I'd brought extra and after fixing the poor plant caught in the door, drove home!