6 Top Tips How To Create A Home Office That Inspires You Everyday!
After I sold my last creative business (hand-painted bespoke wedding stationery), 7 yrs ago, I simply cleared out most of the equipment from my home office and passed it on (a little tearfully) to the lovely new owner. I had decided to change direction, follow my dreams and expand my God-given design talents & so I began my journey into the colourful land of beautiful home design!
I knew there was a massive gap in the market for busy women who juggle their family career as well. We all have homes, we all want them to nurture, cocoon & support our families and also to look good too!
That bit's important.
So, my goal has been to be THAT person who can get you to that place…to where your home is actually gorgeous on all those levels!
Anyhoooo, I digress, what happened was, after I had cleared all the stuff from the other biz I was left sitting in an office which looked like someone had shouted, "Fire!" and everyone had fled. It wasn't pretty. It was covered in paint splodges, wonky furniture, tea stains (love a proper leaf brew occasionally) and had neglected areas of peeling wall paint (with the odd fossilised insect in the corner of the windows).
Rather yuk.
I sat there for (embarrassingly) a few years, thinking I'd do it up soon, then one day I realised it really wasn't inspiring me & it really did matter. Yes, I could create fabulous designs for my clients and yes, I was fully booked, but my workspace began to bother me more and more.
So I decided I really needed to create a home-office that inspires me every day. So I did. I'm too ashamed to show you the 'before' pictures, but………. ok, ok, I'll show you just 1 (hides face) here you are….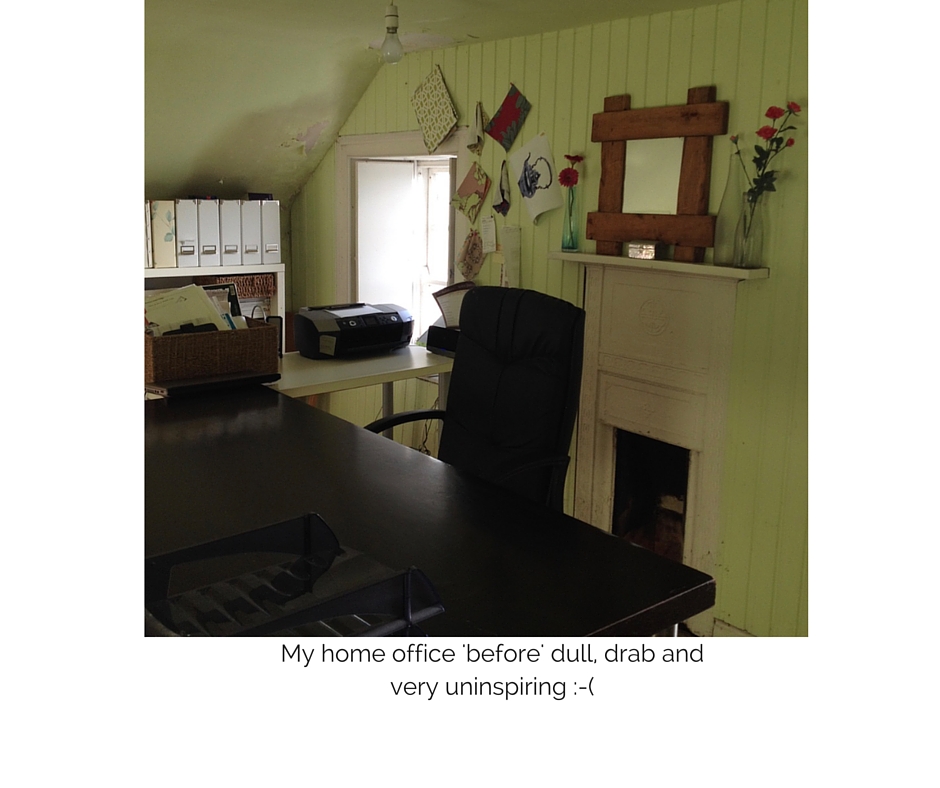 And…drum roll…here are some pics of me in my new gorgeous space…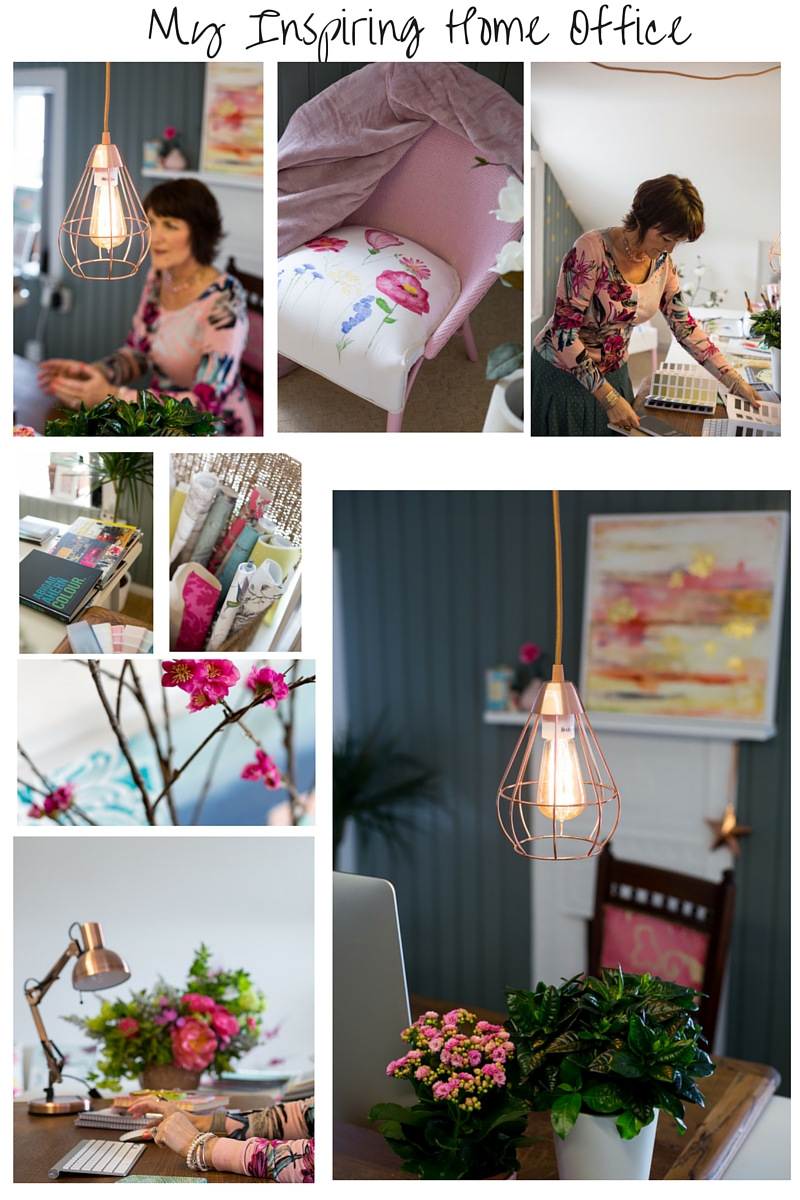 I am so completely delighted with it. It has actually made me feel loads better & because I'm in an environment that is comfortable, well planned and looks amazing, I just know I'm much more productive. (Honestly).
So let me share with you some of my top tips to help you if you would like to create a home office that inspires you every day!
TIP 1: Choose a Room or Space in your Home
If you don't have a spare room, a wall or corner of a lesser used area is just fine. Guest bedrooms can be great as the furniture can be dual purpose.  Or an under-used dining room. Even a niche or nook area below the stairs or in a bedroom, where you can have a piece of work-top made to measure, then add some shelves above it will give you a great work-station. It's amazing what can be created in a tight corner.
Here's one I designed in a teens bedroom: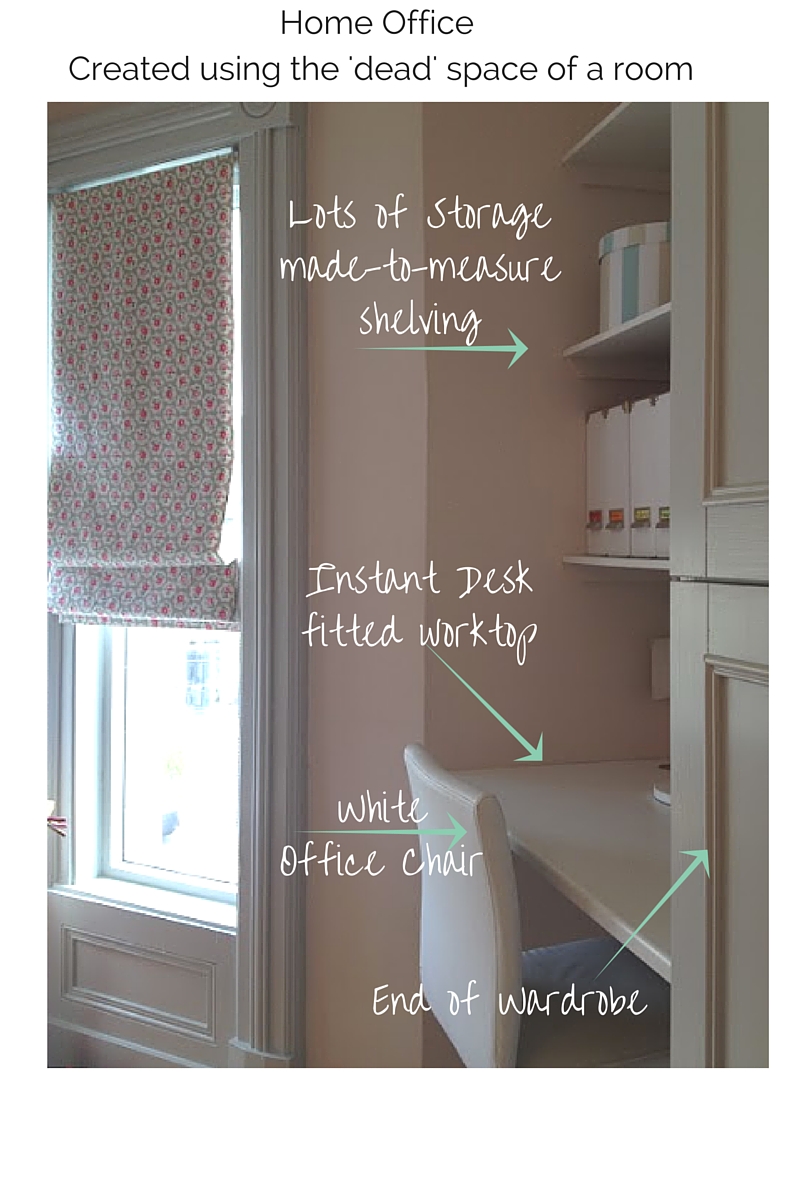 TIP 2: Get a Good Chair (& a nice desk)
Chairs: Bad posture creates all sorts of back aches and muscle stress (as I found out), so the chair is the thing to invest in if you have back issues or want to avoid them. I use a vintage dining chair that I had reupholstered (& re-padded) in a beautiful print, so the seat is comfy, it looks good and keeps my posture right. Maybe you need or prefer a specific 'officy' chair on wheels, however, they don't always look great, especially if you're working in a dining room or bedroom and if you are like me that will matter!
So, what's the answer?
Here's a couple of my thoughts… Office chairs can actually be recovered in fabric (so you can have comfort and style), just check with a local upholsterer. You can get faux leather in lots of great colours, or you can always use a lovely fabric like I did.
If buying new, they don't always have to be black, many come in tan or white now which are an improvement on black.
Desk: It doesn't have to be an actual office desk, you could use all manner of tables…I have made a collection of some really good ideas and alternatives on a Pinterest board, which you can access by clicking here.
TIP 3: Personalise your Workspace
Did you ever have a corporate job in a shared office? I did, and I always noticed how people were desperate to bring a little homely comfort into their drab and regimented space with all manner of little personal trinkets…pics of the family, framed quotes, ornaments of cats…anything that 'softened' the harsh lines of corporate-land & cheered their soul.
Well, it is your home office so you can totally indulge that and create an inspiring gallery or display of things or images that encourage and warm your heart! If you need inspiration, I have put together a selection of gorgeous wall galleries on my Pinterest page here. In my office I painted an abstract piece of art that brought my favourite colours together – you can see it above the cute little fireplace in the photos.
TIP 4: Use Colour (and maybe some pattern)
For my office I wanted to create a pretty and colourful look and feel, so I used a deep warm grey that provided a good foundation for the colourful gallery of art and pictures I wanted to display. My accessories bring in the accent colours of pinks and greens so this foundation colour works so well. I have plenty of natural light as it's south facing, has 4 little windows, so it doesn't feel dingy or dull.
This is your workspace so be confident and use a bolder colour scheme if you feel like it…I love encouraging people to do this as it's so rewarding. Don't forget to pick a colour palette, not just the wall colour in isolation. Choose a wall colour and an accent colour which contrasts and compliments. A top tip is if you run your own business, try to incorporate your branding colours – looks great especially if you talk to clients remotely via video, or, they actually come to your office – it is another opportunity to weave your brand through everything you do.
TIP 5: Make Storage Attractive
Small Storage: I went to my local TK Maxx and found some really good containers for things, from wicker baskets for my wallpaper samples, to fancy printed boxes I use for stationery and office stuff. I had the colours in mind I wanted to use so that stopped me buying the whole shop! Larger Storage: There are really only two things you might need – one is some sort of a cupboard or drawers and the other is open shelves. The office style you want will dictate the type you use. The best approach for furniture items is to know exactly how much you need to store. Have a declutter, throw the unnecessary, keep what you need, pile it on the floor and think about how you could accommodate it. Do you really need a filing cabinet? Or would cardboard magazine holders hidden in a cupboard work instead? I made another Pinterest board here of some nice office furniture to inspire you.
TIP 6: Lighting
Lighting in your office is important because you need to see what you are reading, typing or writing properly, but, you don't need to compromise on style. I chose a copper effect desk and ceiling pendant because that particular metallic colour works so well with the rich wood vintage table I already had. This style of anglepoise desk lamps are obviously great choices for this situation and are available in many colours, sizes and styles. You could also use a normal table lamp as well, but do remember that colour palette you chose and use the lighting as a way to bring in your chosen colour.

So, if you feel like you should be working in a more pleasant environment I can tell you it's so worth it and doesn't take much to make it amazing!