Looking for some easy and inspiring ways to update and style your home, without all the hassle of a total room revamp?
Well, you are in the right place!
Sometimes you can get slightly bored with your décor and feel like doing something to refresh and revive it (if you are anything like me)!
Maybe you may have been living there for ages, updated nothing recently and feel the urge to change things, but you're not quite ready to start into an entire re-decorating project of a whole room.
That can wait.
Perhaps things are a bit dull, boring, or tired and in need some new life…well, I understand… so let me inspire you!
I have put together a Top Tips List of 8 small(ish) things you can do fairly easily and quickly, for a bit of added style!
TOP STYLE TIP 1: CLUTTER
I'm sorry, I know it's boring and I don't want you to feel I'm telling you to tidy-up!
But, believe me, it's the first tip because it has the biggest impact. Take a look around at the clutter and make a decision to deal with it. Clutter has a way of creeping up on us and after a while there are piles of things in places that shouldn't be there!
I often think that decluttering advice can sometimes sound very over complicated with lots of 'helpful' rules about how to tackle it. These only put me off and actually make me not want to even bother!
What I have found that definitely works is simply to start small, in one room, set aside 15 mins and decide to just get on with a single drawer, a shelf, an individual pile of stuff.
That is all.
It doesn't mean you will be at it all day, it's just 15 mins. And most of us can find that time (unless you have a new baby…ohhh I remember those days!)
Do this a few times in that same room until it's finished, then move on to the next room. Oh, and…start with the worst room.

You'll be amazed at what you can achieve and even more pleased and delighted with the results!
TOP STYLE TIP 2: CUSHIONS 
Fabrics and textiles can be a fabulous addition to a room and there is nothing like a few dreamy new cushions to beautifully update and inject fresh personal style.
If you want to create drama, rather than something safe, go for big bold prints. If you are not sure what colour to choose, look at any artwork in your room, or a rug, or any other significant accessory or decoration and go with the same or similar colour, that way your room will have a more cohesive look.
And if it's a total refresh and quite different look you'd like to achieve, maybe with more of a seasonal nod, go for an entirely new colour to your existing cushions. (You can store the old ones and bring them out again later).
Yellow or mustard is a great colour at the moment and works beautifully with neutral schemes as well as with greys and navys.
Mixing up patterns confidently works really well so don't be afraid to choose a combination of spots, stripes, floral, or zig-zag (chevron), which are a trend right now. If this all seems too busy, do try to use some plain, or block colour cushions in between the patterned ones.
Try mixing the sizes up too and start with the larger ones at the back, layering the smaller ones to the front.
And don't forget about adding different textures, particularly if your colours are all the same.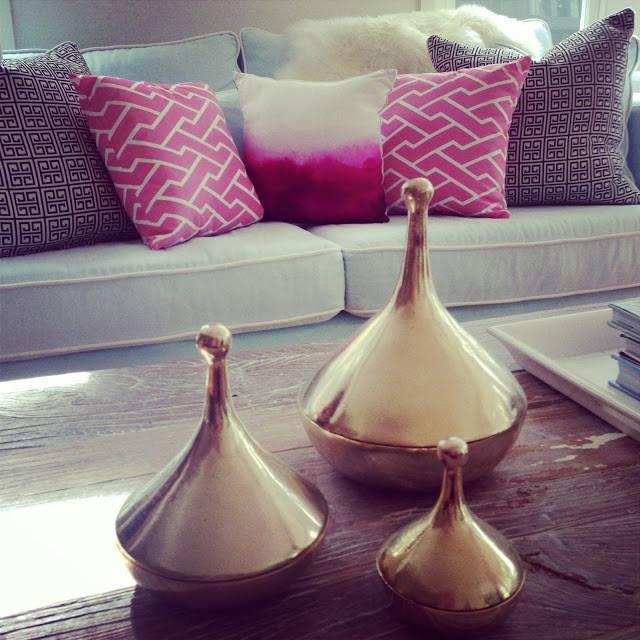 My favourite trick, which will transform any cushion you own, is to ditch the foam inner! I cannot tell you how much better a feather filled cushion pad looks and more importantly feels than an awkward shaped lumpy old foam one!
And, another top trick is to buy a feather filler that is a little bigger than the actual cushion cover. This gives a plumped up, full and very luxurious look and feel, that transforms the entire display and elevates it to another level of sumptuousness!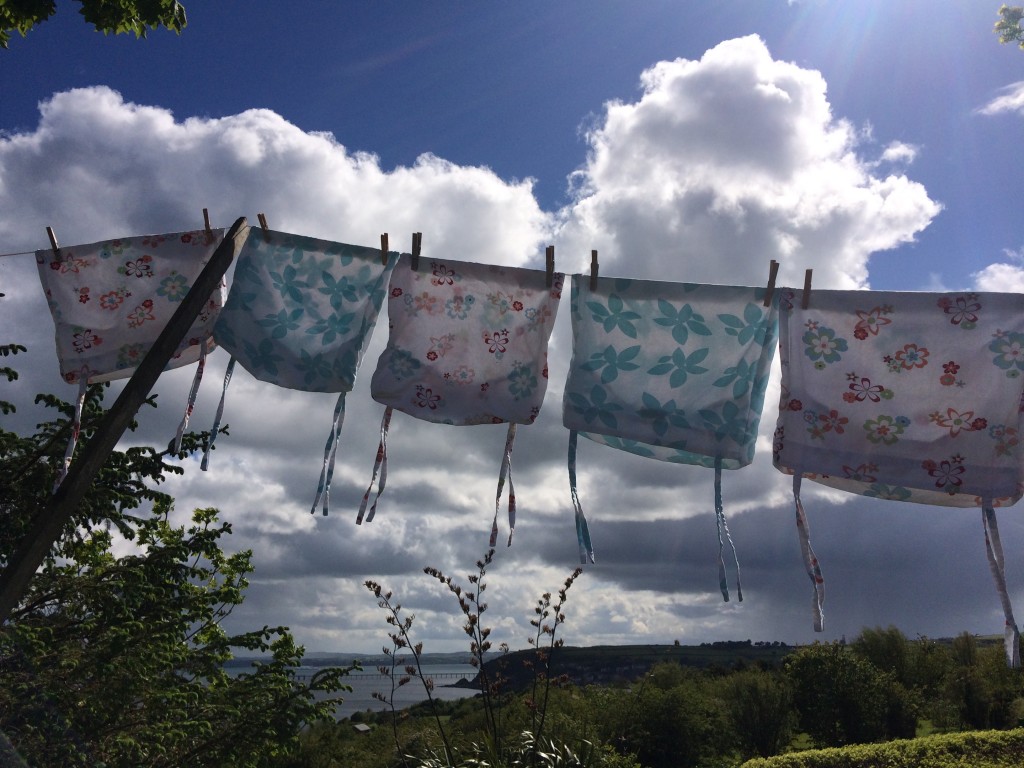 Just found this picture I took of my favourite outdoor cushion covers on my washing line getting a seasonal refresh!
TOP STYLE TIP 3: THROWS 
Still on the subject of textiles, the next item that will also bring relaxed, warm, soft and cosy feelings to your home are throws. Just having them casually draped or folded up over a sofa, chair or bed will add another welcoming layer of colour and texture.
They are an invitation to snuggle up, wind down and elevate ones tired feet!
Wool or mohair are very luxurious, but there are plenty made from other fabrics available in the high street.
(Your family will love you even more!)

TOP STYLE TIP 4: HEADBOARDS 
Most of them are generally plain, but I have developed a little bit of a secret craze for recovering headboards lately. For one, it's inexpensive – you may only need one, or at most two meters of fabric depending on its width and the size of your headboard.
And for two, they are quite reasonable to buy, or even better, have made.
Most local upholsterers will be able to create the frame, pad it and cover with your choice of fabulous fabric.
If there is any leftover material use it to make a couple of little dinky oblong cushions for the bed or a chair.
Here's one I had made for a child's bedroom, which was revamped from its former bold, red, football-themed bedroom into something 'very cool' -quote from the new owner! I also had the surround of the bed upholstered too, you can see Mr Fox fabric running round it.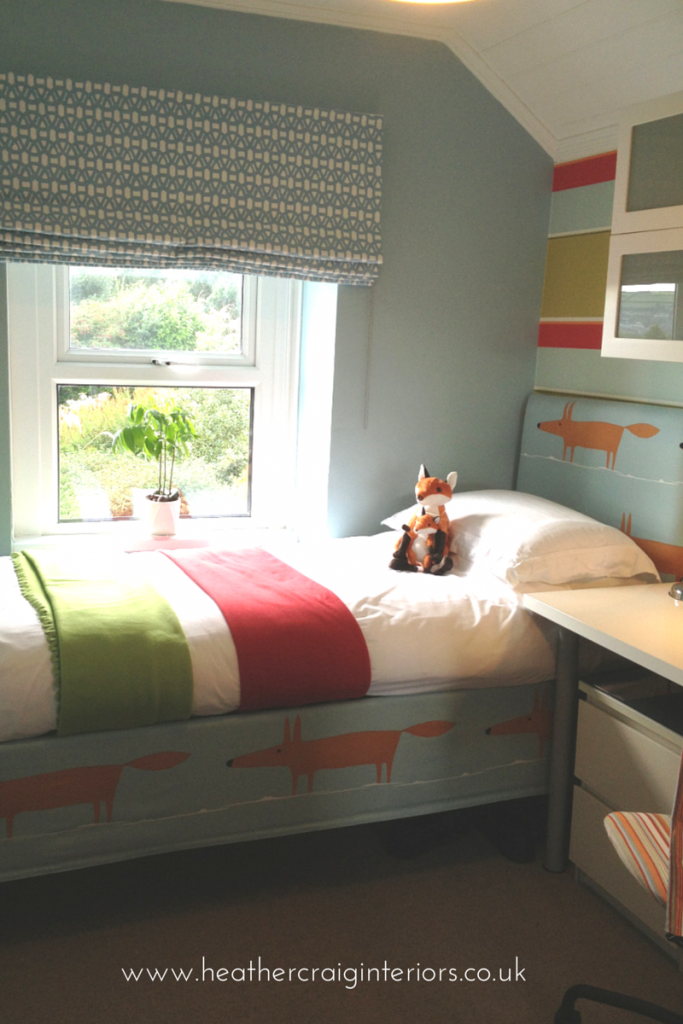 I also added the fox fabric to the bed base
with simple velcro to complete the look.



TOP STYLE TIP 5: MAKE A GALLERY 
Making a beautiful and unique picture display is one of the best ways to help personalise your home so it reflects you and your family and your collective lives. 
So, if that's where you are now, (with no major house decorating going on) this might be a good time to create the idea you have had for ages for doing this type of thing. One of my own great visions was to get all my family's wedding day photos, going back in the past as far as I can, and making a black and white picture gallery of all the happy couples! Haven't managed it yet though.
Here is a lovely little arrangement with a vintage theme I saw when out and about recently. They used odd plates as well as picture frames to create a casual, but striking display with a bird theme.
If you need some inspiration, pop over to Pinterest and try searching for 'wall picture displays', there's lots of food for thought there!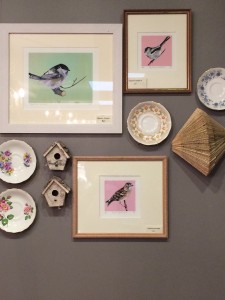 TOP STYLE TIP 6: PAINT A PIECE OF FURNITURE
People are still embracing upcycling of furniture which is something I love too. It's a creative way to reuse and revive older and often better quality furniture that are widely available at good prices from charity and second-hand shops.
Chalk paint is the new wonder paint because it requires no prior lengthy preparation, which I don't have the patience for!
All you need to do is take a piece of furniture you may already have, or pick up something old and abandoned and paint it. You can give it an aged look which might suit a vintage theme, using some dark wax to finish it with, or just apply clear wax if you prefer a smarter look.
New handles or knobs will transform it and you can buy these in DIY places or independent craft shops. The little craft shops are where you will find lovely colourful ranges of chalk paint too and usually, if you chat to the staff, they will be full of helpful advice on how you can get started, what brushes to use and how to slap on the wax!
I have used Autentico and Annie Sloan chalk paints, both great quality.
Here's one of my creations…my outside bench was a bit tatty, but I thought I'd get a few more years use out of it by painting it.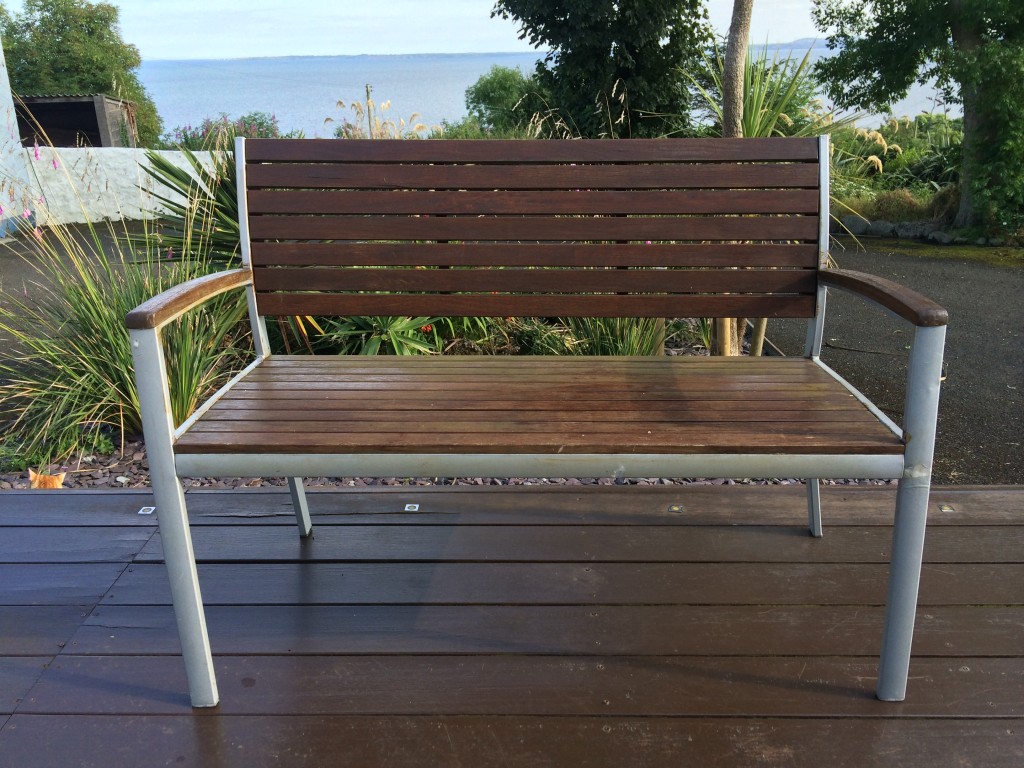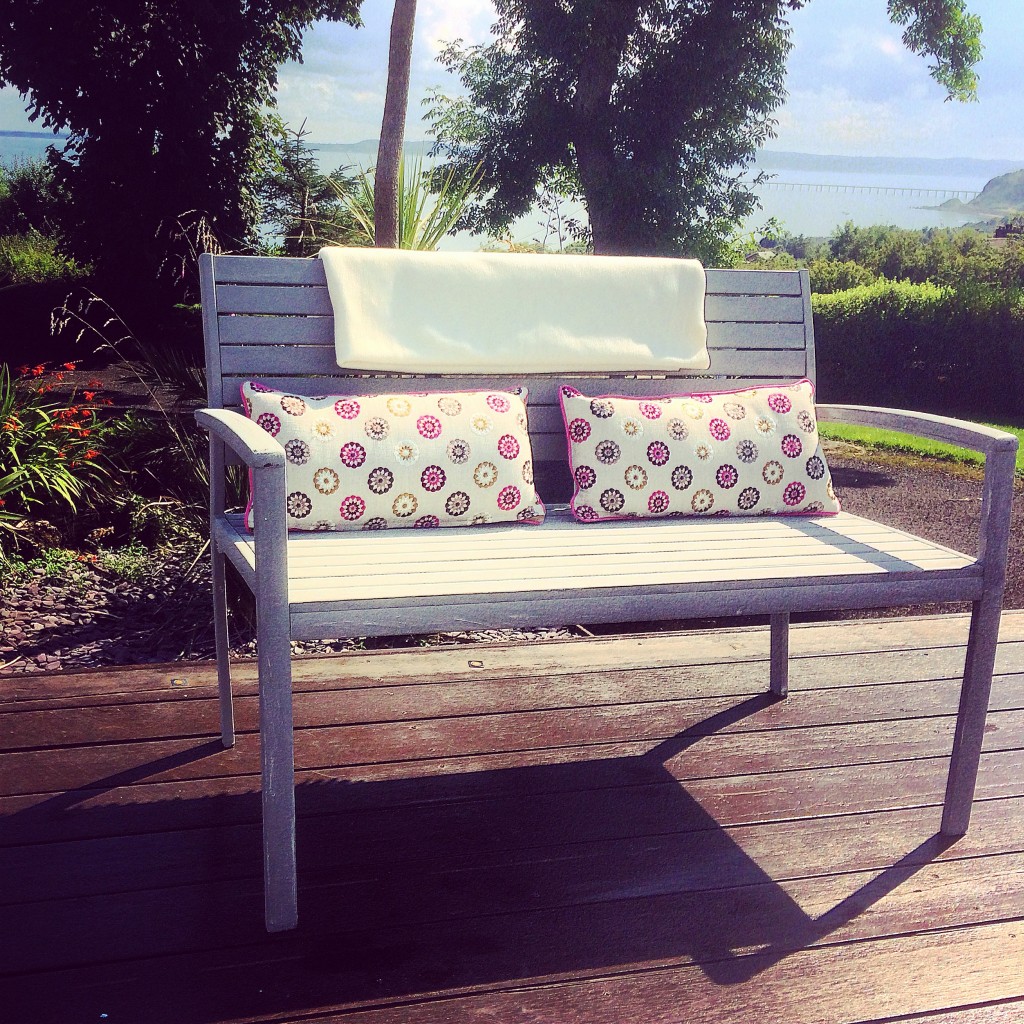 The paint colour I used was a mid-grey, it didn't take long and looks amazing now!
TOP STYLE TIP 7: BARE WALLS? 
Sometimes, when you look around your home, you might see large expanses of walls with nothing on them. Art can be pretty difficult to choose and time-consuming to get the right piece, never mind being expensive.
So, if it's just a quick update you are after try a mirror. Or, what has become an interesting little micro-trend, a group of different mirrors. This has the added advantage of instantly reflecting more light around the room helping it to appear brighter and larger.
And its just simpler and easier to find a suitable mirror to fit your room style, than a picture or painting.
TOP STYLE TIP 8: DISPLAYING YOUR THINGS 
Editing some of the items you have on display can instantly and easily make a difference. Instead of having your bookshelves groaning due to the sheer volume of stuff, clear them and start again. If you have lots of books and CDs that are never used, put them away out of sight.

Your bookshelves will look far better if you don't overcrowd them and follow a couple of simple styling rules such as grouping similar things together and colour coding items – placing things of the same colour together. 
BONUS EXTRA TIP!
(I said there were 8, but here's one I wanted to give you)
TOP STYLE TIP 9: LIGHT UP 
A home can never have enough sources of light. I'm sure there are a few areas in your place where you could add an extra glow? All you need is a simple discreet lamp, (table or floor) from one of the high street stores that have a home section, even try Ikea, and the entire room will exude an improved and more relaxing mood come the evening!
I have seen stylish fairy lights do just this (not in a tacky way) and actually, I recently bought a set and put them in a large, heavy glass vase and the effect was really striking.
Well, I hope you have been inspired and are ready to step up the style in your home!