MOVING HOUSE?!
If you have finally arrived at the huge decision that this is the year you definitely want to move house and you are absolutely determined to make it happen, then you need to read on!
I don't want you to do another thing until you have inwardly digested why it's essential that you make your house look it's very best, preferably before you put the 'For Sale' sign outside.
Don't even think of just putting it on the market for a while to 'see what happens' – that's a sure way of causing you more stress in the long run, especially if few viewers come and worse, rubbishy offers (if any).
The technique to getting you the most money possible for the biggest financial asset you own is called Property Presentation or Home Staging.
The bottom line is that by NOT doing this your bottom line could be seriously, adversely, affected.
And that's what this all about – getting you the best price possible.
IS PROPERTY PRESENTATION JUST FLUFFING PILLOWS?
NO!
It's a specialised marketing technique used to prepare a house that you want to sell, to ensure it has much more success on the property market than if it was shown in its current condition.
It certainly isn't just about fluffing cushions, although, that may be part of it!
And please do not ever think that there is anything wrong with its current condition – most lived-in homes can benefit from a bit of attention, including mine. It's a bit like when you go for an interview for that job you always wanted, you'd make a big effort to look the way you think they would like you to look if you worked for them. It's about impressing your interviewer and the company you're applying to, if you dressed to please yourself, if it was me, I'd be wearing pyjamas and slippers and so wouldn't get the job!
So you see, its the same principle, if your potential buyers are looking for a welcoming, bright and airy, clutter-free home with adequate space and storage, well…that's what you show them your house has, as best you can.
What this technique does is to enhance its best features and greatly distinguish it from the local competition, so it attracts more offers and consequently, hopefully, sells for more money in a shorter timeframe.
Which would be a dream!
SO, HERE'S MY 6 REASONS WHY YOU MUST MAKE IT LOOK GOOD WHEN SELLING
1. FAR BETTER CHANCE OF SELLING FOR MORE MONEY
Most evidence shows that prepared homes sell for more than unprepared homes and I have personally seen that work. If home staging is not yet a trend in your area, it will be even easier to stand out and impress people.
2. MORE LIKELY TO SELL QUICKER
Many statistics indicate that staged homes simply sell faster than homes that aren't properly prepared, so the number of days on the market is typically less. Living in a house that's having people tripping through it can be pretty stressful, so the less time you have to put up with that the better!
3. FABULOUS ONLINE PHOTOS
Most people now start their new home search online, so your photos are hugely important and so should be as gorgeous as possible.
Your aim is to get your home in top position on a buyer´s shortlist of properties to view.
I always recommend getting professional photos as they are simply, very noticeably, vastly superior.
4. GENERATE A BUZZ AS PEOPLE  ARE LONGING TO SEE PROPERTIES WORTH
Staged homes are presented in a way that appeals to a wide range of potential buyers.
If there are others for sale in your area that are very similar to yours, the best-presented home will obviously be the most sought after.
5. IMPROVED BUYER CONFIDENCE
Buyers feel more confident about better-presented homes, as the property appears to be well maintained which they perceive as fewer headaches for them later.
6. YOUR ESTATE AGENT WILL LOVE YOU
They love a beautifully presented home because they fly off their books…you never know, you might just get you a top position in their window or a premium feature on the website and maybe some free PR or press coverage!
Kitchen before the technique has been applied….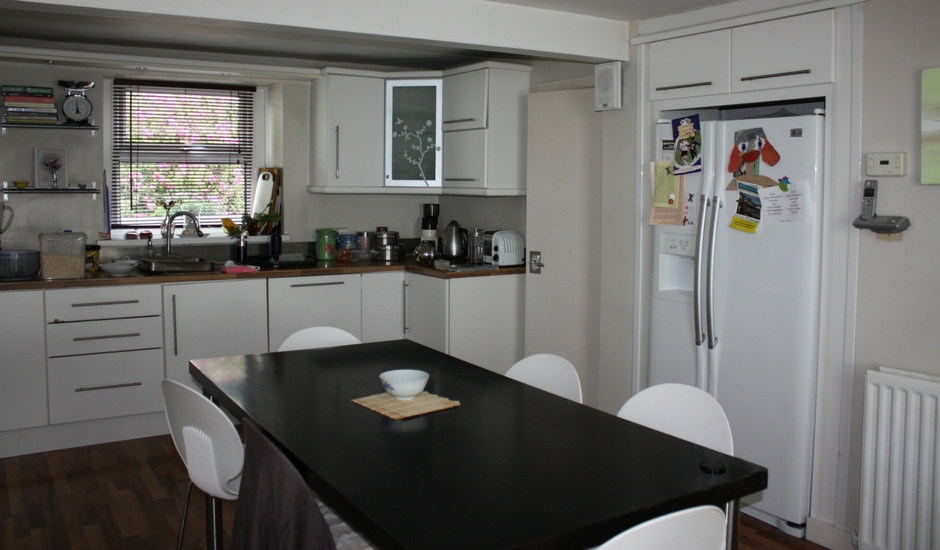 and here's the same kitchen after I applied the technique…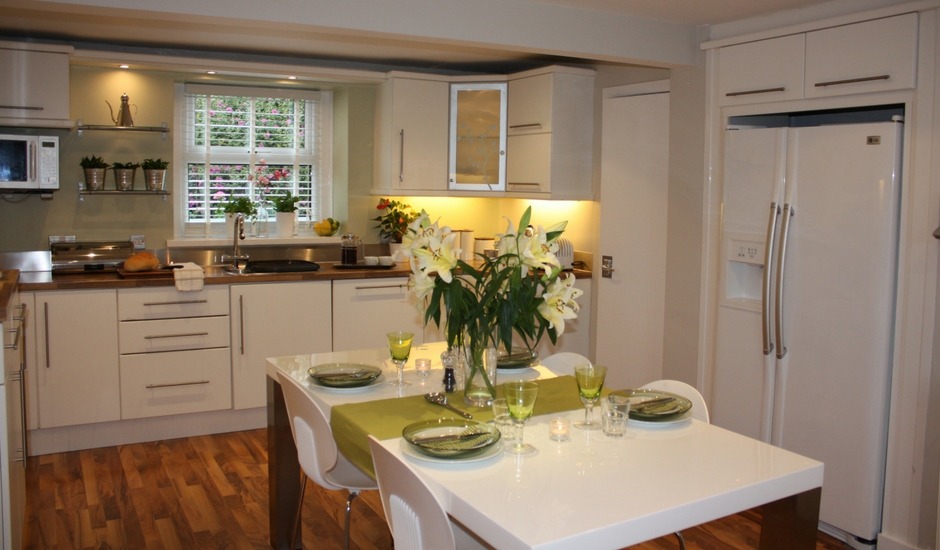 If you'd love to learn more I have written a free eBook which you can download here instantly (or fill in the form below) its called:
"50 Fabulous Tips to Make Your Home Irresistible to Buyers"
Most of my tips are free or very low cost to implement, so even if you only put some into practice, you'll notice a big difference.
In my experience, buyers are always looking for a reason not to buy,  to pick flaws,  so your job is to eliminate all the things they could possibly complain about.