Oh my word! The Dilemmas of Design.
You know you are going to have to live with the final results and you just don't trust yourself to get it right.
Let's see, do you…
Feel frustrated at the state of your house?
Are you worried it will take forever to make your home look the way you want it?
Are you uninspired with your current décor?
Do you need to create a whole room on a tight budget?
Do you feel embarrassed to invite friends and family into your home?
Have you got a tired, dated room which feels bare, worn, cold and unloved?
Do you wish it could look more stylish like some of the pictures in the home interior magazines?
Have you started a redesign project and got stuck half way through?
Ever wanted a boutique bedroom on a budget, so you can have a bit of luxury every day?
Are your children outgrowing their rooms as quickly as they outgrow their clothes?
Maybe you have a 'good' room you rarely use because it just feels wrong and you have no idea why?
Do you want to turn your spare room "dumping ground" into a real usable space?
Do you want the interior of your extension to look as good as the exterior?
Are you overwhelmed by the vast number of paint and wallpaper options and aren't sure what to choose?
Are you bored with beige but scared of colour and don't know how to bridge the gap?
It doesn't need to be this way!
Let's work together to make some magic happen…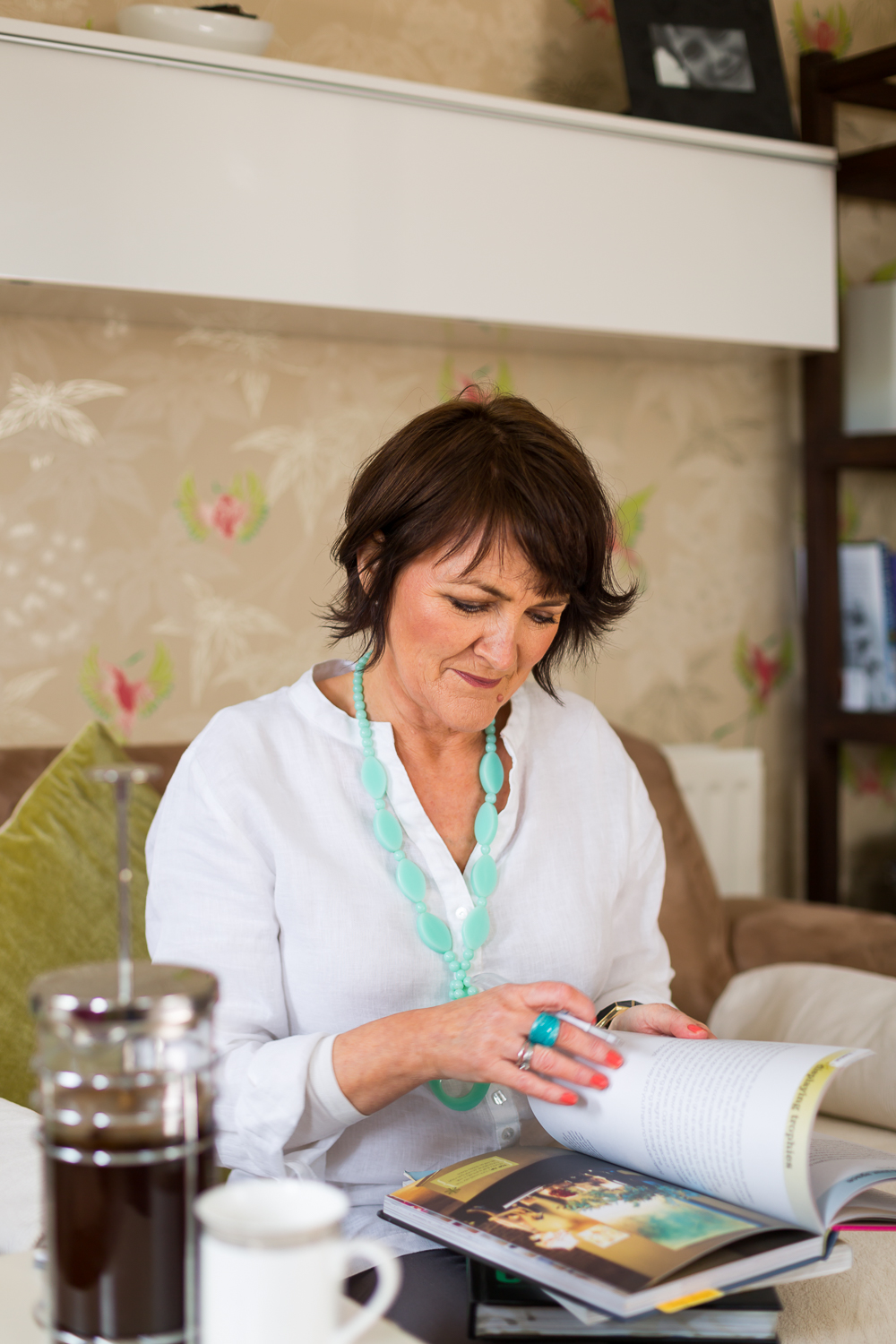 Step 1) Book your VIP Package by the form below
Step 2) We meet at your home
Step 3) I create your design
£597
Once you have ordered your VIP Interior Designer Package we make an appointment for the first consultation.
I will email you to set up a date and time that works for you.
You will get a little questionnaire to fill in and I'll ask you to send me some photos or a video of the room we are going to work on.
I'll call round to your home and I'll gather all the details for the project and I'll take you through my Interior Analysis Questionnaire so I have a really good understanding of what you are looking for.
I'll then produce a complete design that will include:
A floor plan – So you can see where to place furniture.
A design moodboard – Digital (you can on an iPad or computer) which brings your new design to life! There may be 2 of these to show you slight alternatives.
It will include:
Style interpretation – I will identify which style is most appropriate in line with your assessment.
Colour analysis – This includes a personal palette for the room and exact paint colours identified.
Furniture placement – What looks best where, what you want to keep and what you could buy.
Windows – Recommendations for how best to dress them.
Flooring – What would work best for your needs and personal style.
Fabric – Providing you with exact choices and product codes to suit your style and budget.
Lighting – Recommendations of lighting products and how to use it properly for greatest effect.
Art – Where to place it and how best to incorporate it within your living space.
Shopping List – If I have sourced anything new, I'll give you the details.
Here's a little peek at one of my designs I created for a client…yours will be bespoke to you!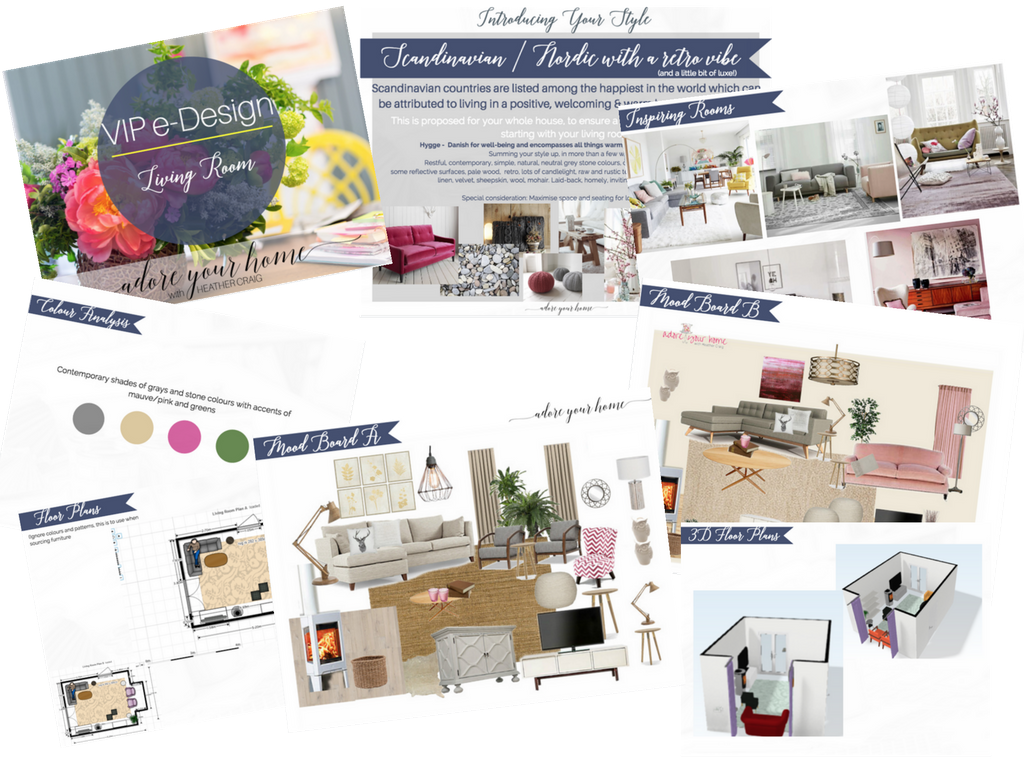 This will be emailed to you and any samples of fabric or wallpaper will be posted.
Just imagine…
You will have all your dilemmas answered and you can stop all the endless home magazine research.
You will stop feeling overwhelmed every time you walk past that room!
You will have confidence to get the ball rolling and know what things to tackle first.
AND ANOTHER THING…
As a FREE BONUS, we can arrange a 30 min phone call to chat about anything you need help with a couple of weeks after the design has been delivered. You can ask me anything you're not sure about or pick my brains regarding anything relating to your design brief.
I will ALSO throw in my Magnolia to Marvelous Online Programme worth £50 so you never need struggle with paint and colour choices again – yay!
There's no time like the present. Now's your chance to get your house back and that beautiful home you have been waiting for.
Spaces for this package are ALWAYS limited, as I only have a few slots every month & do get booked up, so book yours today.
Book your VIP Interior Design package by completing the form below and I'll be in touch asap!
VIP Interior Design Enquiry...
Hello!
My name is Heather Craig, owner of Adore Your Home and I'm here to HELP YOU – you don't have to tackle all this by yourself any longer. 

I am a mum of two boys who have now flown the nest and a business owner. I've learned an awful lot about making a home comfortable, stylish and functional having helped many clients and by constantly evolving my own home.
Before I started designing, I even made a few hideous décor mistakes myself and wasted time and money buying things because I hadn't the experience I now have! Hind sight is wonderful!
Years ago, I even managed to buy the most infuriatingly uncomfortable sofa, the arms were as high as the back and I loathed it…but it's long gone now 😉
I am both an Interior Designer and a House Doctor Consultant – both of which mean I know how to create stylish, functional and family-friendly homes that just simply work.
Before interiors, I had my own wedding stationery business and even sold my greeting card range through the famous Harvey Nichols!
I have always had a real passion for the colourful world of interiors and so took the chance 10 years ago of making a career change to pursue my dreams. I went back to college and did an interior design qualification to develop my skills and I absolutely loved it.
Following that I got lots and lots of practice creating gorgeous designs for family and friends and so my business grew steadily from there, to where it is today, which keeps me very busy helping people make the most of their homes!
A couple of years after starting the interior business a client asked me to help sell their home by staging it to attract the right buyer. I loved that particular job so I decided to learn more about how to help people prepare their home for sale, to give it the best chance of selling quicker and for more money, so I trained with The House Doctor of Channel 5 and am a qualified House Doctor Consultant.
So essentially, I specialise in helping busy ladies like you make your home somewhere you love living, working, relaxing, and entertaining in!
Do you want to know what other people think about working with me?
'I can't tell you how much we love it!'
'We weren't using our large lounge and sitting room because it felt cold and unloved and old fashioned. Every time I opened the door I sighed at the waste of space, old furniture and dated curtains. I knew it needed revamped but with a room that size I didn't know where to start. I wanted to create a place to put my dining table too. So, for the first time, I asked an expert and involved Heather and I can't tell you how much we love it now, what a transformation. I would never ever have thought my room could look so stylish. I love bringing our friends round now to enjoy it too. It's warm and comfortable and now we actually use it!'
Rosemary Hay, Carrickfergus
'Gorgeous colours and a great practical design'
'I wanted to convert my spare room, which we just used as a dumping ground really, into a new bedroom for my 13 yr old daughter as she'd out grown her brightly coloured and rather tattered room.
Heather came up with a fabulous shabby shic new room with gorgeous colours and a great practical design. My daughter now has a proper desk to do homework on and a lovely dressing table area for all her stuff! And she absolutely loved it. Thanks!'
Ann Cowan, UK
Book your VIP Interior Design package by completing the form below and I'll be in touch asap!
VIP Interior Design Enquiry...