MAGNOLIA TO MARVELLOUS
Paint Colour Confidence
Mini-Programme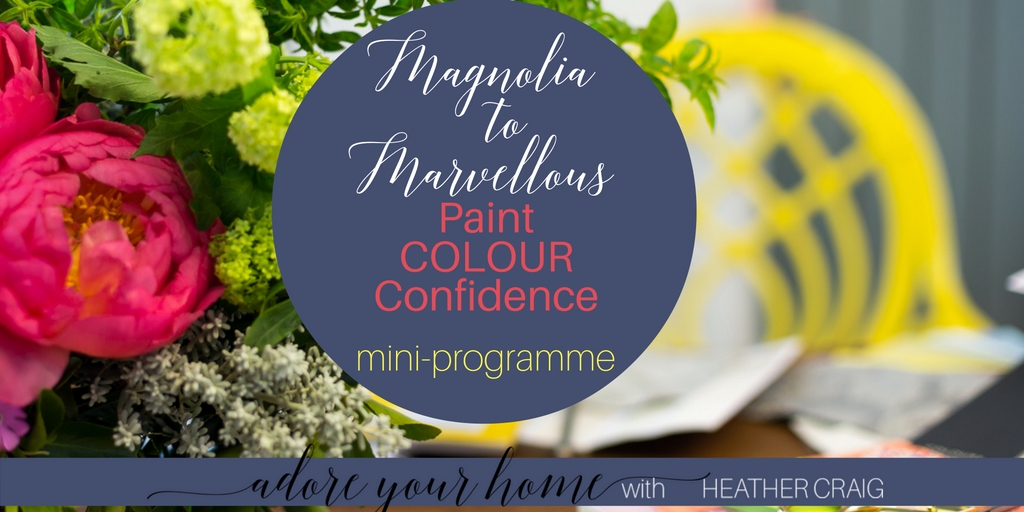 HOW TO CHOOSE PAINT FOR YOUR ROOM
ARE YOU FED UP & FRUSTRATED THAT YOUR HOME DECORATING NEVER TURNS OUT THE WAY YOU WANT IT?
DO YOU NEVER QUITE GET THE RESULTS THAT YOU WANT FROM THE COLOURS YOU USE?
DO YOU FEEL LIKE YOU JUST DON'T QUITE HAVE THAT EYE FOR COLOUR?
IS EVERYTHING JUST A LITTLE BIT MISMATCHED AND YOU NEVER QUITE ACHIEVE THE LOOK YOU HAD IN MIND?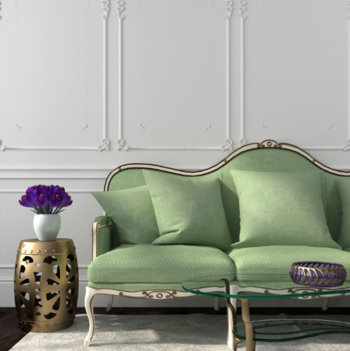 You want to be super proud of your home and you want to achieve interior success rather than being left feeling like this…
– frustrated and overwhelmed when it comes to picking paint colours.
– having that dreaded sinking feeling when you had the room painted and you (secretly) hated it?
– you keep spending too much money getting it decorated (and want to weep when it's done)? Sssshhhh… it's kinda like that bad haircut where you smile politely and say you love it when in fact you are dying on the inside.
– you have to live with previous mistakes that are too expensive to fix (and every time you look at it, you could cry). 
– you even avoid letting people into that room wherever possible.
– you spend WAY too much on tins of paint that looked nice in the shop but revolting on your wall? AND don't even get me started on the amount of tester pots that you have purchased over the years that sit in the garage/shed!!
If you are nodding…READ ON!
MY MINI-PROGRAMME WILL TEACH YOU HOW TO CONFIDENTLY CHOOSE A COLOUR THAT WILL LOOK AMAZING…and all for around the cost of a tin of paint, how's that for amazing value at ONLY £97 ?!? 
Do you buy lots of those little tester pots to try and still not get it right?
You cover walls in tiny little splodges of paint & simply can't see the wood for the trees. Would you just love to feel happy with your home because the colours all just look amazing?
Here's what Joanna King thought:
"Recently I bought the amazing mini-programme called Magnolia to Marvellous and thank goodness I did!
Moving into a new home can be daunting when it comes to what colours to choose and techniques to make your new home like designer ready without the budget!
But Heather's programme took me through step-by-step to choosing some lovely colours along with ideas and now I have the most amazing bedroom!
I am going to start working on my living shortly using the techniques I learnt from the short, manageable videos within the programme!

The value for money was amazing! A real life interior designer at the touch of a button to help with your style needs! My advice to anyone wanting to revamp or redo a room or home is to buy the programme, work through it, take notes and follow the Adore Your Home with Heather Craig Facebook page!
You won't be disappointed. Joanna Xxx"

– JOANNA KING, SOUTHAMPTON UK
Let me tell you, I completely get it…
Q. Are you really sensitive to colours at home and don't want to be stuck with a mistake?
Q. Do you feel slightly sick when the first few brush strokes go on the wall?
Q. Do you get overwhelmed by the range of paints at the big DIY stores?
(there must be a million to choose from and it seems that there are even hundreds of the same bloomin' colour!)
Q. Are you scared of getting it wrong and wasting time, never mind all that money?
Q. Do you know what 'look' you want but are stressing over choosing the exact colour?
Q. Did you inherit some colours from a previous owner and you need to (quickly) change them?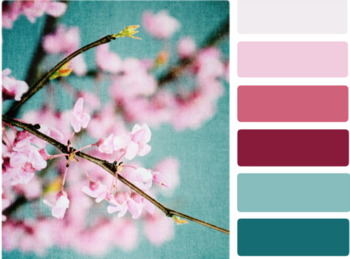 Bored living with creams and are ready to ramp things up with a bolder choice?
I completely understand. I know that this is a massive problem for you and I completely get it, I have worked with soooo many clients who fear colour selection more than flying to the moon!
You can stop trying to work out what colour to use in a room all by yourself!
I can help.
We can do this together!
My Mini-Programme 'Magnolia To Marvellous Paint Colour Confidence' is just what you need.
For around the same price as a tin of paint!
You can stop wasting 100s of hours in the big DIY stores going dizzy over the choices.
You can stop buying paint you will never use.
You can stop procrastinating over the decorating and finally get that room done.
You will love the results every time because the colour will 'just work'.
You will get much more colour confident and save yourself time and money because you can rinse and repeat for all your future painting projects.
You will know what colour to pick that will work beautifully with what's already in your room.
All that disruption will be worth it (and it'll only need to happen once!). You know what I mean… as soon as the decorating starts in one room the whole house can become completely out of control and suddenly you can feel like you live in a building site!
This Mini-Programme will keep that disruption to an ABSOLUTE minimum!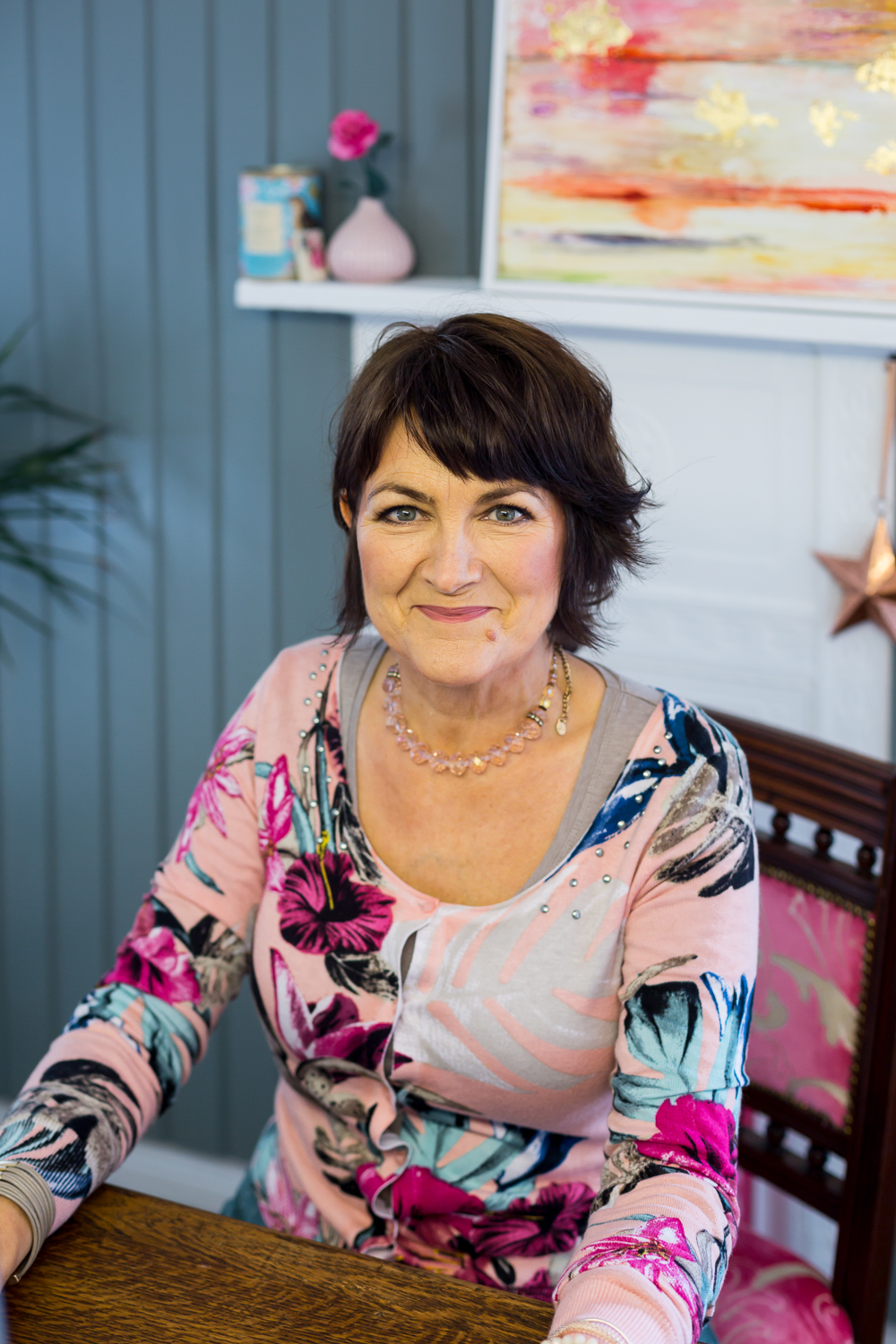 Here's how it has already helped Ailin:
"The 'Magnolia to Marvellous Paint Colour Confidence' was an engaging and enjoyable way to learn about how to pick exactly the right colour for any room in the house. It's packed full of helpful hints and tips and gives a real insight into the steps professionals take to make sure rooms work beautifully. Heather shares her expertise and guides you on a learning journey in a supportive, understanding and fun way. I am embarking on a kitchen refit/makeover and feel so much more confident now that I will make the right choices, avoid expensive and annoying mistakes and ultimately have the kitchen I've always wanted.
It is magnolia at the moment and I can't wait for it to be marvellous!
Then I can move onto the other rooms in the house!

– AILIN O"CATHAIN, LONDON
And here's what Linda thought:
"I must say I find your videos are really helpful and it is great to get a professional Interior Designers perspective and knowledge at the click of a switch Many thanks again, Yours sincerely,

Linda Gallagher.

– LINDA GALLAGHER, IRELAND
So, what will you get when you purchase the programme?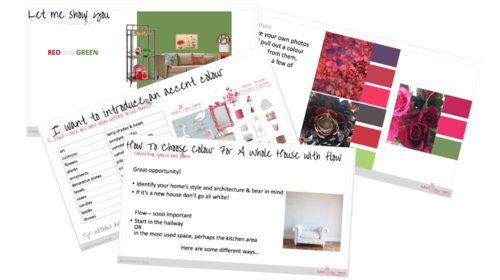 You will get a three-part video course where I tell you my exact strategy that will work in YOUR home, give you the confidence and the steps to take, so you arrive at that perfect colour choice.
Every time.
Module 1 – The Power of Colour
The very basics of colour psychology & why this is great to get to grips with plus, how to come up with a fabulous & inspirational colour combination for your space using professional techniques.
Module 2 – How To Choose Paint Colour
This is where you focus on your room and work through my process to arrive at a suitably beautiful colour.
I show you how to do a room analysis which is the starting point of the colour choosing process.
We look at mood, style & shape of a room and how to make it appear bigger, brighter, smaller, and cosier, also light & its effects.
I talk about the function of rooms and what colours work best, including open plan spaces.
Next, is an inspiring look at a marvellous tool that will bring your room to life & I show you how you can use this clever trick!
Colour flow, what it is and how you can get it,
as well as various other useful tips.
I share with you where to find fabulous & inspiring new ideas to help you move out of your comfort zone and choose colours you may never have considered before, with confidence.
Then it's decision time – you will have found one or more colours you want to shortlist after you have completed the steps in this module.
Module 3 – How To Pick The Actual Paint Colour Tin
This takes you from knowing what general colour(s) you want… to match that with the exact paint tin which will work in your room
I walk you through my simple step-by-step process to finally choose your perfect colour looking at those pesky tester pots and what to do with them!
Then, you will arrive at your perfect colour!
WANT TO DIVE RIGHT IN NOW? WAIT UNTIL YOU HEAR THIS… ssshhh!
BUT THATS NOT ALL…
I have also included some FANTASTIC BONUS VIDEOS that will help even more and give you loads of extra advice and tips to get even better results!
They are:
Outside Painting -How to be creative with the exterior
Furniture Painting –Quick & Easy Guide to Creating A Statement Piece (my way).
Colour Apps –New technology to help you choose paint colour
How To Choose Your Signature Colour – What one is and how to use it
Common Mistakes – That You Can Avoid
31 Top Paint Colour Tips! –To help you be EVEN more creative

Don't be overwhelmed with this any more, my Mini-Programme package is just what you need…
You will be relieved to finally make a decision and know it's the right one.
You will have a colour scheme you'll love, that suits your room and your furniture…and one you might never have come up with before
You can save your precious free time for more pleasant activities instead of hanging round the paint counter at the big DIY stores during peak times or (worse) week-ends!
You'll save money by avoiding mistakes, AND save your sanity in the process!

THE BEST BIT???
You can use this over and over and over again.  NEVER again will you be in that room-painting dilemma land of overwhelm, procrastination and potential results that make you cringe!  
You can side step that one now and be your own Super Colour Choice Design Hero!
And another best bit, remember, it costs around the price of a couple of tins of paint being only £97!!
(NEW – Choose to pay in your own currency)
Click the GREEN BUTTON below and you will be taken through to the Masterclass and can begin creating that fabulous new room right now!
You can listen immediately, or in your own time, whenever suits AND you can listen again and again (so you can use it for every room you tackle).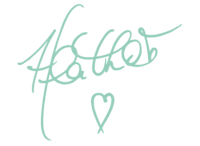 PS. Please feel free to share this offer with anyone you think would love to learn all of this too X