1 HOUR TO GET YOU SORTED
If you're stuck and need some immediate advice this is just what will help…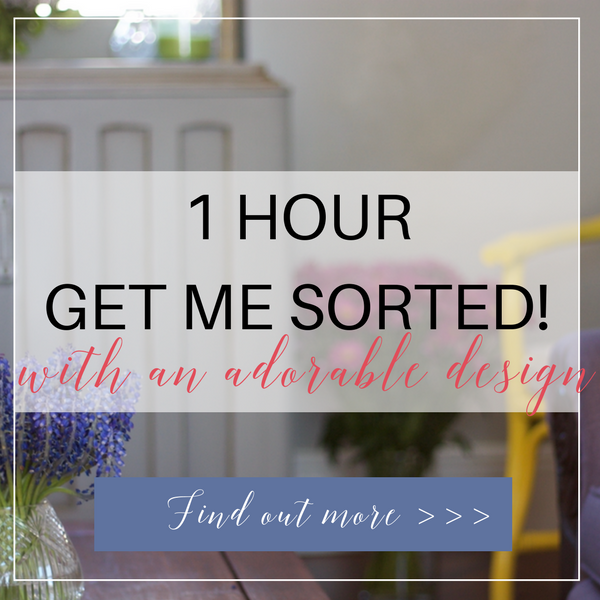 "Help! I'm not sure about a few things and would LOVE some expert help!"
This will be perfect for you if you have a room (or a few trouble spots in your home) which you'd love me to look at and give you all the advice I can!
It's you & me spending an hour on your room (or those few areas) with me coming up with stacks of inspiration for you to make it look and feel amazing.
I'll identify what things you need to change, or add, to make the biggest impact, so you'll know exactly how to achieve what you desperately want!
Just think, you'll go from, "not having a clue where to start" to knowing exactly what to do.
Whatever advice you need…colour, furniture, accessories, absolutely anything, I'll cover it.

HOW DOES IT ACTUALLY WORK?!
We will talk on Skype, online, from the comfort of your own home, whenever suits you, and you'll get:
– A 60-90 min call where I give you all my advice
– A bespoke action plan "How To Make My Room Adorable" 
– A 15 min follow up call 2 weeks later to help if you need a bit more
– 2 weeks email support so you can ask me anything you forgot about or get stuck with
-It's £197 for all that!
(You can send me photos, I'll explain how after your purchase, and fill in my design questionnaire beforehand, I'll email it.
That way I'll already know a little bit about your issues and will have had a little time to think…so we hit the ground running and dont waste time!!)
"I literally cannot recommend Heather enough!
She is warm, friendly and so knowledgeable!
I am so excited to get cracking with my decor!
I actually thought I was not too bad at interior design but I've learnt so much in just an hour!
Thank you, Heather!
Can't wait for our next session!
Xx"
UPDATE!!!
Hayley has since put the advice into action and messaged me with…
"I LOVE my living room.
The teal sofa and chair and rug all blend so well.
I'm so glad I did that session with you."
– Hayley Gillard
Hayley Gillard
professional help that will give you great ideas
Cost is £197 to get this room looking gorgous!